Fracking in Lancashire: Second 0.8 tremor in 24 hours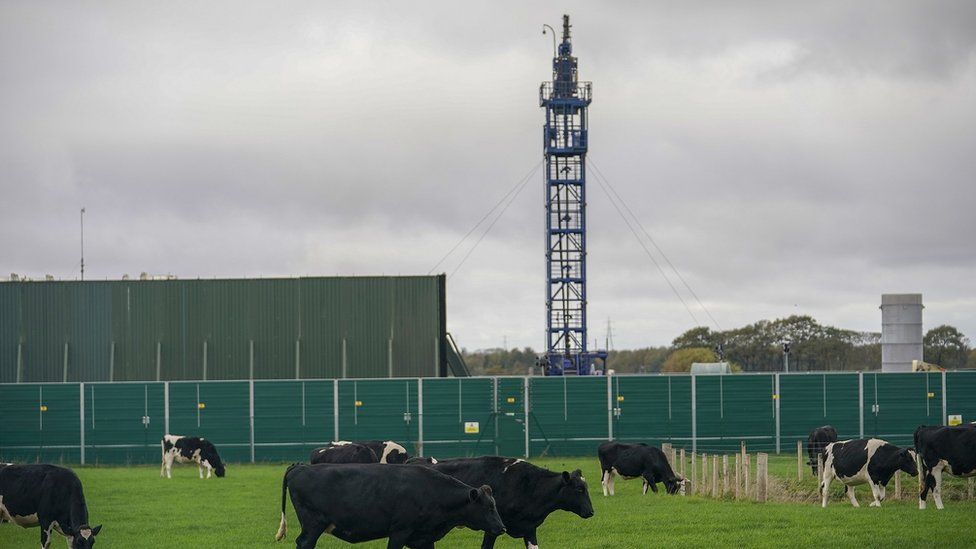 A second tremor of 0.8 magnitude has been recorded within 24 hours at the UK's only active site for fracking.
It was detected on Saturday after drilling for shale gas resumed in Lancashire following a 0.8 tremor on Friday. Neither was felt at surface.
Since 15 October, Little Plumpton has been the first UK shale fracking site after the process was halted in 2011 when it was linked with earthquakes.
Fracking firm Cuadrilla said it aimed to resume operations on Monday.
Hydraulic fracturing, or fracking, is a technique to extract gas and oil from the earth
Liquid is pumped underground at high pressure to fracture shale rock and release gas or oil within
Applications have also been submitted by various firms in Yorkshire, Nottinghamshire and for a second site in Lancashire
The Department for Business, Energy & Industrial Strategy says shale gas "has the potential to be a new domestic energy source"
Governments in Scotland, Wales and Northern Ireland have said they will oppose fracking until further research is completed into its environmental impact
The process restarted on Saturday morning after a 0.8 magnitude tremor on Friday, which is categorised as a "red" event by the monitoring system regulated by the Oil and Gas Authority.
Saturday's tremor was detected at the firm's site in Little Plumpton shortly before 12:00 BST.
Any tremor measuring 0.5 or above means fracking must be temporarily stopped while tests are carried out.
A Cuadrilla spokeswoman said that, as the operations had finished before the detection, "This is not an 'red' incident under the traffic light system operated by the Oil and Gas Authority as we were not pumping fracturing fluid as part of our hydraulic fracturing operations at the time.
"However we will, as always, continue to monitor the seismic activity closely and plan to resume hydraulic fracturing on Monday 29 October."
She said all relevant regulators had been informed.
A spokesman for the the Oil and Gas Authority said: "While the operations at the Preston New Road site have been designed to minimise any disturbance, minor events like these were expected."
He added: "Provided that the event is in line with the agreed Hydraulic Fracture Plan and the risk of induced seismicity continues to be appropriately managed, then operations may resume on Monday."
On Friday, a Cuadrilla spokesman said: "Micro seismic events such as these result in tiny movements that are way below anything that would be felt at surface, much less cause any harm or damage."
The firm's chief executive Francis Egan added: "It is an extraordinarily conservative figure, far below the 2.5 in Europe or 4 in Canada."
Mr Egan said he expected more incidents to be recorded because of the sensitivity of the recording equipment used by the company.
Fracking resumed in October for the first time since 2011 after campaigners failed to stop the process with an injunction bid.
A spokesman for Frack Free Lancashire said "more fossil fuels had no place in a modern-day energy strategy".
Test drilling was suspended after two tremors in the nearby Fylde Coast - one of 2.3 magnitude and the other of 1.5 - in April and May 2011 respectively.
A study found it was "highly probable" the test drilling for shale gas caused the tremors.
A government-appointed panel recommended greater monitoring and said operators should observe a "traffic light" regime, with tremors of 0.5 or above triggering a "red light" and an immediate halt.
Cuadrilla said earlier this month it would spend at least three months fracking two horizontal wells and then test to see if the gas flow was commercially viable.
Related Internet Links
The BBC is not responsible for the content of external sites.