Fracking in Lancashire: 1.1 magnitude tremor halts work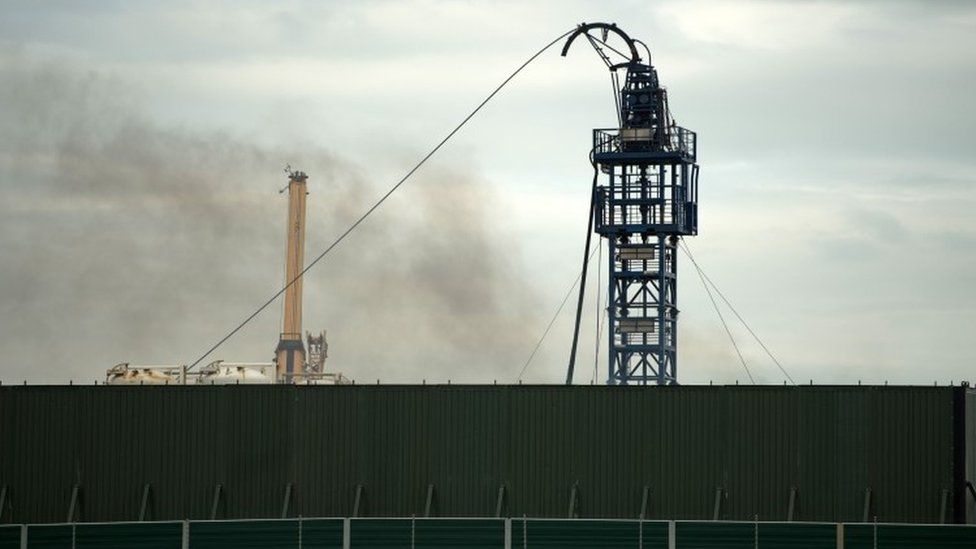 Fracking at the UK's only active shale gas site has been halted for a third time by the largest tremor to be recorded there.
The 1.1 magnitude tremor at the site in Little Plumpton, Lancashire, was the strongest since work began at the site two weeks ago.
It followed two seismic movements of 0.8 on Friday and Saturday.
Fracking firm Cuadrilla said Monday's tremor was no cause for concern, but it would halt fracking for 18 hours.
Drilling for shale gas at the site started on 15 October after a legal challenge failed.
It was suspended on Friday and again on Saturday following tremors of 0.8 magnitude, which are categorised as a "red" event by the monitoring system regulated by the Oil and Gas Authority.
Any tremor measuring 0.5 or above means fracking must be temporarily stopped while tests are carried out.
A Cuadrilla spokesman said: "As we have said many times this level is way below anything that can be felt at surface and a very long way from anything that would cause damage or harm.
"In line with regulations, hydraulic fracturing has paused for 18 hours now, during which seismicity will continue to be closely monitored by ourselves and the relevant regulators. 
"Well integrity has been checked and verified."
According to the British Geological Survey, earthquakes with magnitude of less than two are not usually felt and, if they are, it is only by people very close to the earthquake.
A 2.3 magnitude tremor on the Fylde coast seven years ago was probably caused by shale gas test drilling, a study found.
Cuadrilla said earlier this month it would spend at least three months fracking two horizontal wells and then test to see if the gas flow was commercially viable.
Anti-fracking campaigners argue the process of fracking to extract shale gas poses risks to the environment.
The campaigners had tried to stop the process with an injunction bid but failed.
Related Internet Links
The BBC is not responsible for the content of external sites.