UK fracking: Shale gas starts flowing, Cuadrilla says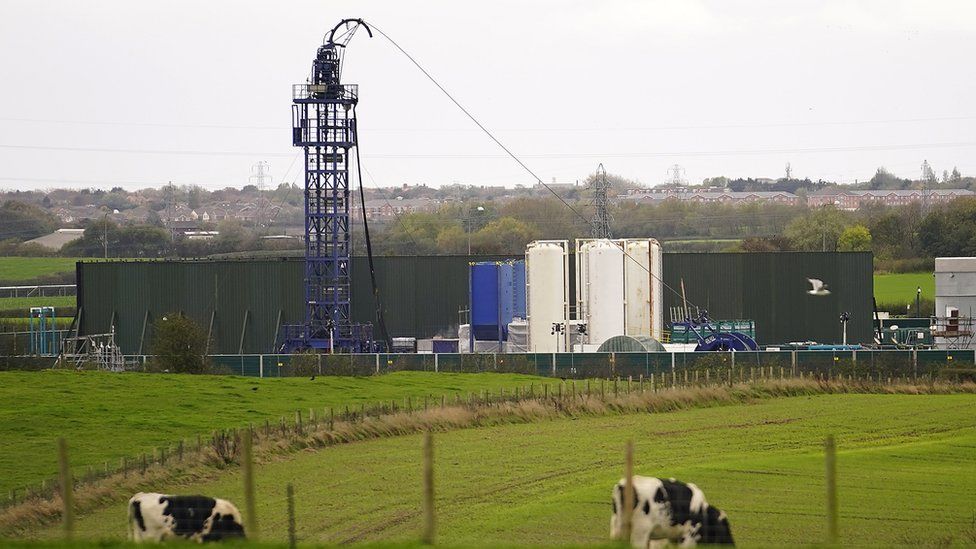 Shale gas has flowed for the first time at the UK's only fracking site currently in operation, energy firm Cuadrilla says.
Operations began at the Lancashire site in October for the first time since 2011 when it was suspended because of earth tremors.
There have been suspensions of the renewed underground drilling operations after further tremors in the area.
Cuadrilla says the site may provide "a significant source" of gas.
But local MP Rosie Cooper has said fracking at the site should be banned immediately, following a 1.1 magnitude tremor on Monday - the strongest since work began on 15 October.
According to the British Geological Survey, earthquakes with a magnitude of less than two are not usually felt and, if they are, it is only by people very close to the epicentre.
Hydraulic fracturing, or fracking, is a technique to extract gas and oil from the earth
Liquid is pumped underground at high pressure to fracture shale rock and release gas or oil within
Applications have also been submitted by various firms in Yorkshire, Nottinghamshire and for a second site in Lancashire
The Department for Business, Energy & Industrial Strategy says shale gas "has the potential to be a new domestic energy source"
Governments in Scotland, Wales and Northern Ireland have said they will oppose fracking until further research is completed into its environmental impact
Anti-fracking campaigners, who argue it poses environmental risks, had unsuccessfully tried to stop the process with an injunction bid.
John Sauven, executive director of Greenpeace UK, criticised the fracking industry, saying it had "produced a deep hole in a muddy field with a small amount of very expensive gas at the bottom".
"It is truly bewildering how little fossil fuel companies need to offer in order to get whole-hearted, full-throated government support," he added.
A Cuadrilla spokeswoman said the natural gas had flowed to the surface at the site near Preston New Road, Little Plumpton.
The firm said it would spend at least three months operating two horizontal exploratory wells before testing the commercial viability of the gas flow.
Cuadrilla chief executive Francis Egan said the volumes were "small" but "a good early indication of the gas potential that we have long talked about".
"However, it provides early encouragement that the Bowland Shale can provide a significant source of natural gas to heat Lancashire and UK homes and offices and reduce our ever growing reliance on expensive foreign imports," he said.
Lee Petts, chair of pro-fracking lobbyists Lancashire for Shale, said: "We think it would be better if some of the £2.6 billion a year spent on importing liquefied natural gas was used to buy gas produced onshore here in Lancashire instead, supporting local industry, boosting employment and raising new taxes to spend on public priorities."
A 2.3 magnitude tremor on the Fylde coast in 2011 was probably caused by shale gas test drilling, a study found.
Related Internet Links
The BBC is not responsible for the content of external sites.