Lancashire council care cuts 'could cost lives' says opposition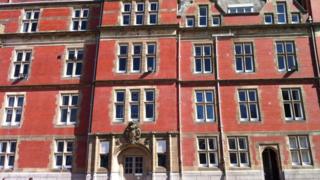 A £77 million package of council cuts to services for vulnerable adults and children "could cost lives", it is claimed.
Lancashire County Council's plans include stopping breaks for children with educational needs, and community-based alternatives to residential care.
Council leader Geoff Driver said the aim was to make vital services "sustainable" at the authority.
Opposition leader Azhar Ali said the most vulnerable would suffer.
"They will put carers and families of those with special educational needs under greater stress... and I believe this package of cuts will cost lives," said the Labour councillor.
'Long-term savings'
However, Conservative Mr Driver said: "If we don't make the finances viable we won't be able to provide the necessary services to the really vulnerable people of Lancashire."
He denied it was vulnerable people who would lose out, saying it would be providing better services and "we will save in the long-run if we don't have to pay for more expensive care in the future".
The Local Democracy Service reports that about 160 full-time jobs would be lost under the plans, 30 of which were currently vacant, but about 100 new permanent roles would be created.
The biggest saving - almost £7m - would come from cutting payments to independent providers supplying overnight care workers to bring it in line with the amount paid to county council staff doing the same job.
Moving adults with learning disabilities from residential care into specialist flats is estimated to save £3m, while introducing more cameras to bus lane cameras is expected to bring in £2m.
The council also proposes turning off 18,000 street lights.
If approved by the cabinet on 3 December, the plans will reduce the county council's budget deficit to £46m by 2022/23.
In August, council bosses agreed a new savings plans after an independent auditors' report said its finances were at a "tipping point".
County Hall has committed to finding £135m of savings in the four years to 2021-22.