Bernadette Green death: Ex-police officer felt mum was a 'burden'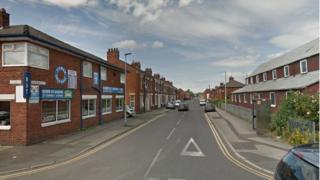 A former policeman smothered his frail elderly mother because he saw her as "a burden whose lingering existence was ruining his life", a court has heard.
John Stephen Green, 65, was said to be impatient for his mother Bernadette, 88, to die so he murdered her at their family home in Preston, Lancashire.
Prosecutors say his motive was revealed in text messages to his daughter.
In them Green called his mother "it" and a "stinking corpse" before her death on 18 May 2018.
Francis McEntee, prosecuting, said the defendant had lived with his mother at his former childhood home in Inkerman Street since 2009 after the failure of his marriage.
Mrs Green increasingly relied on her son after she was taken to hospital in 2009 following a fall.
The prosecutor said Green "appeared to be a caring and attentive son" but felt "trapped" caring for "a woman he regarded not as his mother but as a burden whose lingering existence was ruining his life".
'Severe neglect'
Jurors at Preston Crown Court were read a selection of the messages, which displayed "vitriol" and Green's belief he could only be free after his mother died.
Just five days before Mrs Green's death, he texted: "Been a grim and gruesome five weeks here. Last two weeks horrendous, she's at death's door but nobody's opening it. Shouldn't be allowed."
Mr McEntee said the defendant, who denies murder, later called the messages "dark humour" and said he was "just venting his spleen".
Green rang emergency services on the evening of 18 May, the court heard. He told an operator that attempts at resuscitation would be pointless as he was certain his mother was already dead.
Her death was referred to the coroner after it emerged she had not been seen by a doctor since October 2013.
A post-mortem examination revealed the body of an "emaciated female who had been the subject of severe neglect".
Mr McEntee said the "clear evidence" from the Home Office pathologist was that Mrs Green died as a result of having been smothered.
Green is an ex-officer with Lancashire Constabulary.