Bernadette Green death: Murder accused son queried post-mortem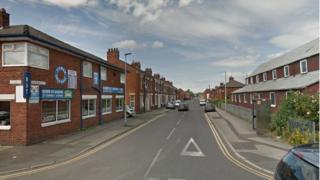 An ex-policeman accused of smothering his elderly mother asked if a pathologist saw "the right body" when police told him the cause of death.
It is alleged John Stephen Green, 66, murdered his mother Bernadette, 88, because he felt she was a burden at their family home in Preston.
Preston Crown Court heard on Wednesday that he queried her post-mortem examination when told the body showed signs of "severe neglect".
Mr Green denies murder.
Mrs Green's death on 18 May was referred to the coroner because she had not seen a doctor since October 2013.
A post mortem revealed the body of an "emaciated female who had been the subject of severe neglect".
There was "clear" evidence she had been smothered, according to Home Office pathologist Dr Alison Armour.
Bedridden
When interviewed after arrest, Mr Green said: "This is the daft thing. I didn't do it and nobody else could have done it."
Asked if he suffocated his mother, he replied: "Would I do that to my mother? I have been looking after her for eight years."
Mr Green had lived with his mother at his former childhood home in Inkerman Street since 2009 after his marriage failed.
He told detectives his mother was bedridden for about five weeks before her death and he was checking on her more regularly.
On one check he noticed she had stopped breathing.
He said: "I gently rocked her head, tapped her on the side, called her 'mother' and she had gone.
"I have seen a lot of dead bodies. I know what death looks like."
When informed about the post-mortem findings, he said: "Did the pathologist look at the right body? I just can't get it."
He said he did not have any particular concerns about her health on the day she died but "knew she was on her way out".
Green is an ex-officer with Lancashire Constabulary.
The trial continues.