Blackpool Golden Mile to become 'world class', council claims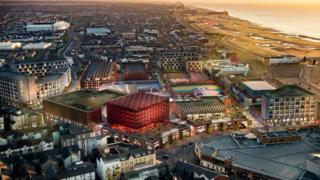 Blackpool's famous Golden Mile will become a "world class" tourist attraction under £300m plans, the town's council has boasted.
Hotels, restaurants and a "flying theatre" are all part of the 17-acre Blackpool Central development, set to get under way in 2020.
The site has been available since the old Central station closed in 1964.
The council believes the development will attract 600,000 extra visitors and create 1,000 jobs.
Previously the site has been the focus of several high-profile scheme, such as the failed Las Vegas-style super-casino and Snowdome.
The new plans are the work of UK-based development firm Nikal Ltd and Media Invest Entertainment of Austria.
Blackpool council will provide the land but will not contribute financially. The project is being funded entirely by the private sector.
The plans are set to go out for consultation before going before Blackpool Council's Planning Committee for fast-track approval in 2019.
Council leader Simon Blackburn said the plans were a "game-changer" and "not just aspirational, but highly deliverable".
He said: "This really is a once-in-a-generation opportunity that has the potential to alter the face of our town."
'Blobby Land'
A council spokesman said the development would provide "world class" attractions themed around Chariots Of The Gods, a book written by Swiss author Erich Von Daniken, and a 150-bedroom hotel.
Features include:
a "fully immersive flying theatre" which would provide a "real flying sensation"
a virtual reality experience with "epic scale" visuals and body tracking
an Alien Diner themed bar and event restaurant
a multi-media exhibition space
indoor interactive entertainment
a zone with family rides, arcade games, a bounce park, laser tag arena and bumper cars
But writing on his Facebook page, the leader of the Conservatives on the council, Tony Williams, questioned whether the attractions would continue pulling in tourists.
He said: "I'm not trying to be negative, the town needs refreshing, I'm just wary how this whole development will pan out and what the quality will be over time.
"Certainly the technology used will be dated very soon and Virtual Reality is becoming more and more sophisticated for private users.
"So we didn't get Disney, Universal or MGM, I just hope we didn't get Blobby Land."
The land earmarked for regeneration fronts the town's famous promenade and is occupied by magistrates courts, the town's vacant police station, a surface-level car park and a market.
Blackpool's Sea Life Centre and Madame Tussauds will be incorporated into the project.
It will also have apartments, two hotels, a nightclub and landscaped public space.
The council spokesman said it owned more than 90% of the land which would be leased to Nikal Ltd and Media Invest Entertainment (MIE) on a long-term deal.