M55 'carnage': Freak snowstorm causes 24 vehicle pile-up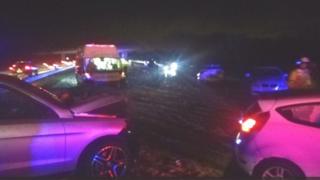 A snowstorm caused a 24-vehicle pile-up on a motorway in Lancashire.
The M55 was closed in both directions after the sudden hail and snow caused the collision shortly before 22.00 BST on Tuesday.
Lancashire Police described the pile-up as "carnage" in a tweet, but said there were no serious injuries. It has launched an investigation.
The stretch of motorway between junctions one for Preston and junction three for Kirkham has since reopened.
Drivers said the road was like a "skating rink".
Jonathan Fenton, responding to a Lancashire Police Facebook post, said: "Having travelled through it, accident would be a bit of an understatement. I would call it absolute Carmageddon."
He said that "torrential hail" came from nowhere, and seemed to "just stick and turn the road into a skating ring".