Duke of Edinburgh: Prince's historic carriage ride over Morecambe Bay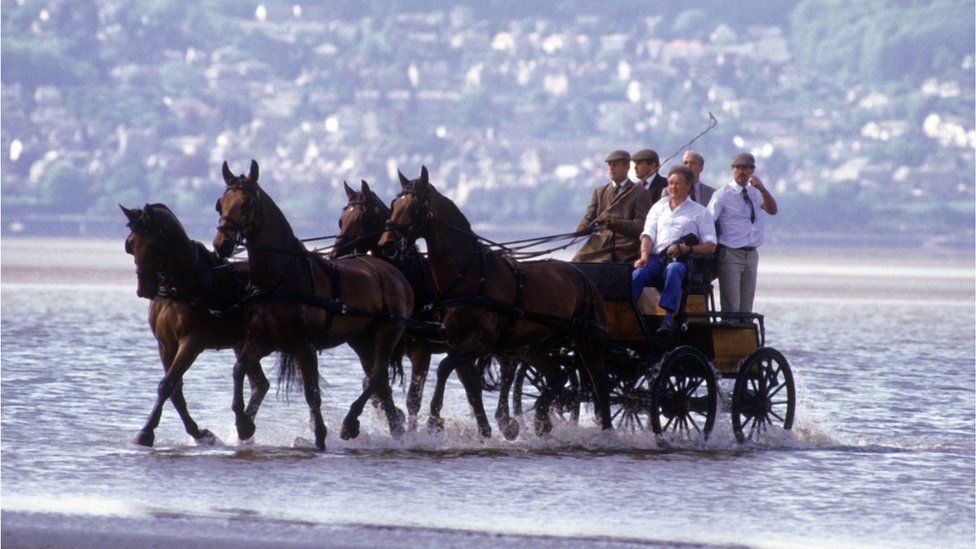 Prince Philip made many visits to Lancashire during his long life, but few can be as memorable as his carriage ride across Morecambe Bay.
On May Day in 1985, he crossed the treacherous bay at low tide, expertly accompanied by Cedric Robinson, the Queen's Guide to the Sands.
The crossing from Silverdale to Kents Bank was the first by a team of horses in 130 years.
According to Mr Robinson, the prince adored the scenery and showed great interest in the history of the bay.
He also remembers the Duke of Edinburgh was concerned about a news organisation's helicopter buzzing low enough to scare the horses.
Philip's visits to the county were mostly accompanying the Queen, for occasions such as The Royal Variety Performance in Blackpool in 2009, when it returned to the resort for the first time since 1955.
One of his last public engagements in the county came during the Queen's Diamond Jubilee year.
In May 2012, the royal couple embarked on a tour of the region, just as they had in the 1950s.
In Burnley, they boarded the canal barge, The Pride of Sefton, with Prince Charles for a tour of the Weavers Triangle area of the town, to the delight of local schoolchildren.
"We're like the luckiest children in the world," one said.
One of Philip's longest Lancastrian associations was his membership of Accrington Camera Club.
It contacted him during the Queen's Silver Jubilee and asked if he could send a shot to their annual exhibition.
Club officials found themselves going to a London gallery to collect a full exhibition of photographs he had taken while bird-watching.
"The Lord Lieutenant opened the exhibition and suggested that as a 'thank you', it might be a good idea if we made him an honorary member," said club member Harry Emmett.
"Imagine our surprise when we found ourselves mentioned as an organisation he is patron of in an official list published by The Times," he added.
Reaction to death of Prince Philip
Related Internet Links
The BBC is not responsible for the content of external sites.