Covid: Blackpool IT expert becomes stand-in rabbi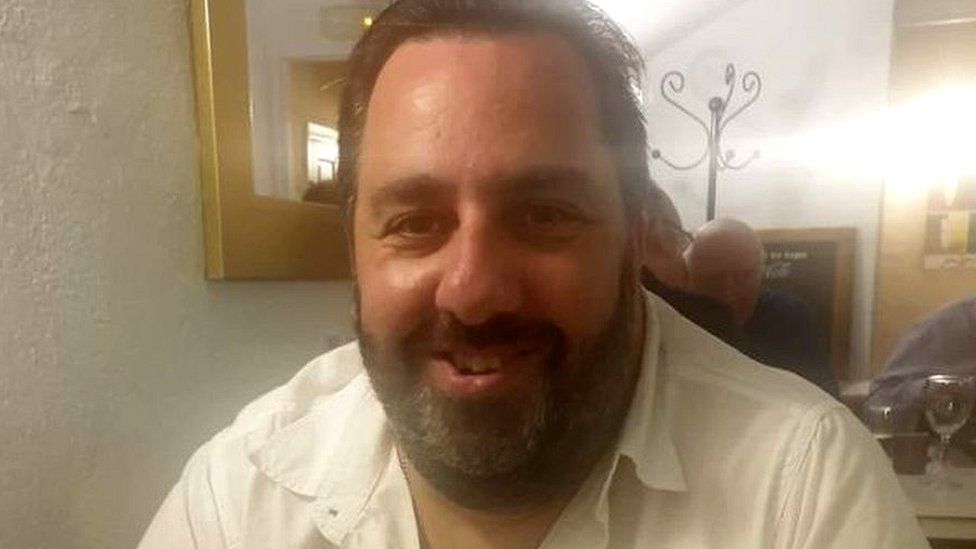 An IT specialist has spent much of the Covid-19 pandemic as a stand-in rabbi at his local synagogue.
Michael Tax, 45, stepped into the breach at Blackpool Reform Synagogue when the virus meant its elderly rabbi could not travel from Liverpool.
Mr Tax, whose sisters are president and vice-president at the synagogue, has led seven funeral services.
He has been praised for his "selfless" community spirit by House of Commons Speaker Sir Lindsay Hoyle.
"As one of the healthier members of the community I was asked if I would be prepared to do the funeral services," said Mr Tax, adding that at the beginning of the pandemic "we didn't know a lot about the dangers of Covid and who it might affect."
He said that while the funerals had a "set format", he still found conducting his first one a daunting experience.
"I had virtually no training - just a couple of conversations with the words 'read this and do that' - I was literally thrown in the deep end," he said.
"I was so nervous - it was horrendous but I got through it and as bad as it sounds it gets easier as you do more."
He added his lifelong religious background had helped him.
"I've grown up around the synagogue, scouting and freemasonry so I'm used to public speaking - seven funerals doesn't seem a lot but we wanted to help local Jewish families and I was just doing my little bit to help," said Mr Tax.
The scoutmaster was also honoured by the scouting authorities who enlisted Commons Speaker Sir Lindsay Hoyle for the virtual award.
Sir Lindsay said Mr Tax was "somebody who has put others before himself on so many occasions in the last 12 months in a way that has promoted togetherness and strengthened community ties".
Mr Tax also used his day job to put the synagogue services online.
When asked if he was tempted to become a permanent rabbi, he replied: "I have no intention - whilst the last year has got me more involved with the synagogue, I don't think that it is something that I would pursue.
"My family are all involved with the synagogue, in fact my two sisters are currently president and vice-president!
"They won't say so, but I believe it was them that nominated me for the award from West Lancashire Scouts - they are all very proud of the work that I have done."
Related Internet Links
The BBC is not responsible for the content of external sites.