Fisherman's Friend tycoon Doreen Lofthouse dies aged 91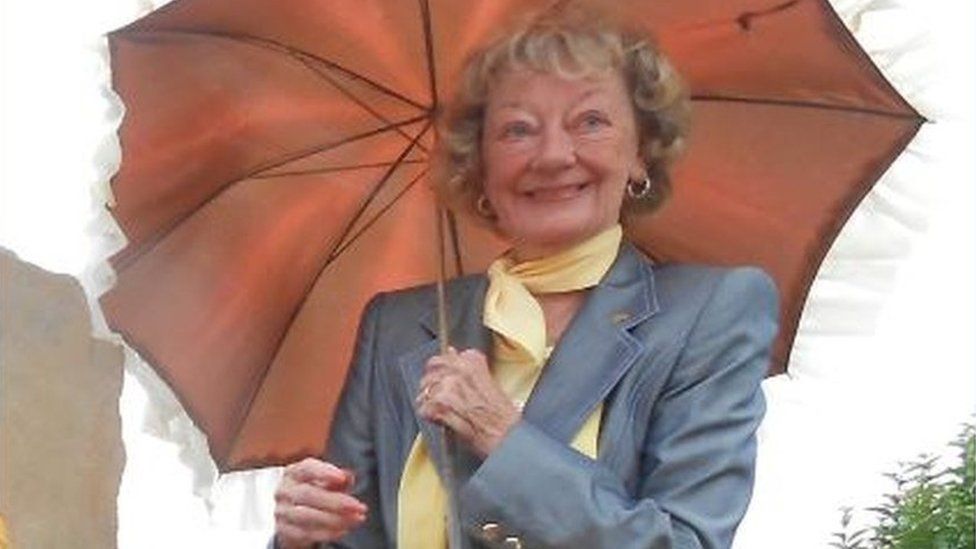 A pioneering businesswoman who grew Fisherman's Friend cough sweets from a small firm into a huge global brand has died aged 91.
Doreen Lofthouse, known as "the mother of Fleetwood", began spreading word of the menthol and eucalyptus lozenges around the world in the 1960s.
The Lancashire philanthropist was also awarded an OBE for her charity work.
Wyre Council said Mrs Lofthouse was "a true pioneer" whose generosity had also helped "transform Fleetwood".
Fisherman's Friend lozenges were originally developed by pharmacist James Lofthouse in 1865 to relieve various respiratory problems commonly suffered by fishermen.
For the next 100 years, they were virtually unknown outside the fishing community.
But thanks to the entrepreneurial skills of Mrs Lofthouse, who married James's grandson Tony, the cough sweet is now available in 120 countries, netting the company annual revenues of more than £55m.
The lozenge's shape was based on the design of the buttons on one of the dresses she used to wear to the office.
'Fleetwood's greatest advert'
Garry Payne, chief executive of Wyre Council, said he was "deeply saddened" to hear of her death on Tuesday night.
"Mrs Lofthouse was a true pioneer of Fleetwood... She was a woman who deeply cared about the town and I thank her for everything she has done," he said.
Lofthouse of Fleetwood said it was "a sad day for the entire Fisherman's Friend family" and "she was simply one of life's good people".
The company said Mrs Lofthouse had "tremendous focus and dedication" and "was a keen supporter of the local community and at the same time, devoted to her friends and family."
Dick Gillingham, a trustee of Fleetwood Museum, said she was a "wonderful woman... who will be remembered in Fleetwood for many, many years to come".
He remembered her many contributions over the years, including helping to fund floodlights at the local football club, a lifeboat for the RNLI, as well as public artworks such as the "welcome home" statue for the families of fishermen.
The Lofthouse family also paid for the restoration of a replica of the London Eros statue and donated it to Fleetwood in 2006.
"She's taken the name of Fleetwood all over the world... and been probably our greatest advert," added Mr Gillingham.
Fleetwood Town Football Club tweeted its condolences, saying: "Doreen put our town on the map and will be sadly missed."
Former Blackpool police Supt Damian Kitchen remembered how she "gave hundreds of thousands of pounds" to Lancashire Police in 2009 after she was the victim of an "horrendous" robbery in which her OBE and MBE were stolen by masked raiders.
Mrs Lofthouse and her husband were locked in a bathroom overnight during the robbery.
"What a great legacy of safety and protection she leaves. RIP Doreen," tweeted Mr Kitchen.
Zara Robinson, from Fleetwood Museum, told the BBC that Mrs Lofthouse became aware of the lozenge's popularity when she received letters from holidaymakers who had visited the town.
The tourists hoped that one day they would be able to buy the cough sweets where they lived.
"Doreen took it upon herself to visit all these towns to try to sell the lozenge in all these different locations," she said.
Ms Robinson said the businesswoman would be remembered for "her inspiring nature [and] the fact that she took the Fisherman's Friend lozenge and she made it into the global business that it is today".
"It's just truly a magnificent story. She was a magnificent woman," she added.