Franklin Graham: Blackpool bus ad ban 'breached human rights'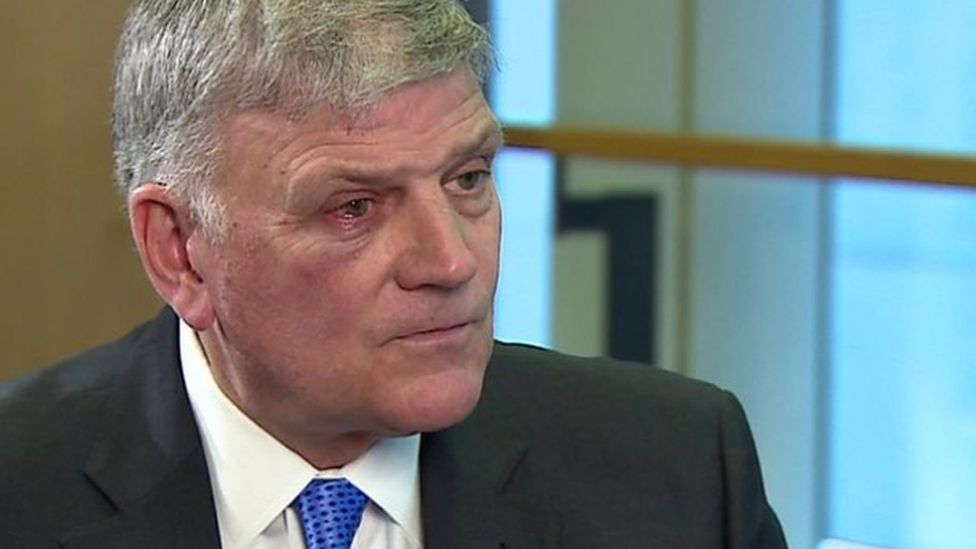 A council breached human rights when it banned adverts for an evangelical Christian event, a court has ruled.
Blackpool Borough Council and Blackpool Transport Services removed bus adverts in 2018 for an event in the resort featuring preacher Franklin Graham.
Judge Claire Evans said at Manchester County Court the move disregarded "the right to freedom of expression".
The council said it remained committed to "promoting equality and diversity [and] eliminating discrimination".
Franklin Graham, son of the late evangelist Billy Graham, is known for his controversial views on same-sex marriage and Islam.
Despite protests and an attempt to bar him from entering the country, Mr Graham hosted an evangelical rally at Blackpool Winter Gardens in 2018.
When asked about his views at the time by the BBC, Mr Graham said he believes "marriage is for a man and a woman and that is what the Bible teaches us", adding same-sex weddings were a "sin".
"If we don't repent and turn from our sins then we are doomed."
Ahead of the event, the council initially allowed then removed advertisements that read "Lancashire Festival of Hope with Franklin Graham - Time for Hope".
Judge Evans said the decision breached the Human Rights Act's protection of freedom of religion and freedom of expression.
"It gave preference to the rights and opinions of one part of the community without any regard for the rights of the claimant or those who shared its religious beliefs."
She added: "This is the antithesis of the manner in which a public authority should behave in a democratic society."
In a joint statement the council and Blackpool Transport Services Ltd said it had taken on board the judgement's findings and would undertake a review to determine if any further changes need to be made.
They said they remained committed "to promoting equality and diversity, eliminating discrimination and increasing respect, tolerance and understanding throughout our community".
Related Internet Links
The BBC is not responsible for the content of external sites.