Blackburn model plane club vows to fight public park ban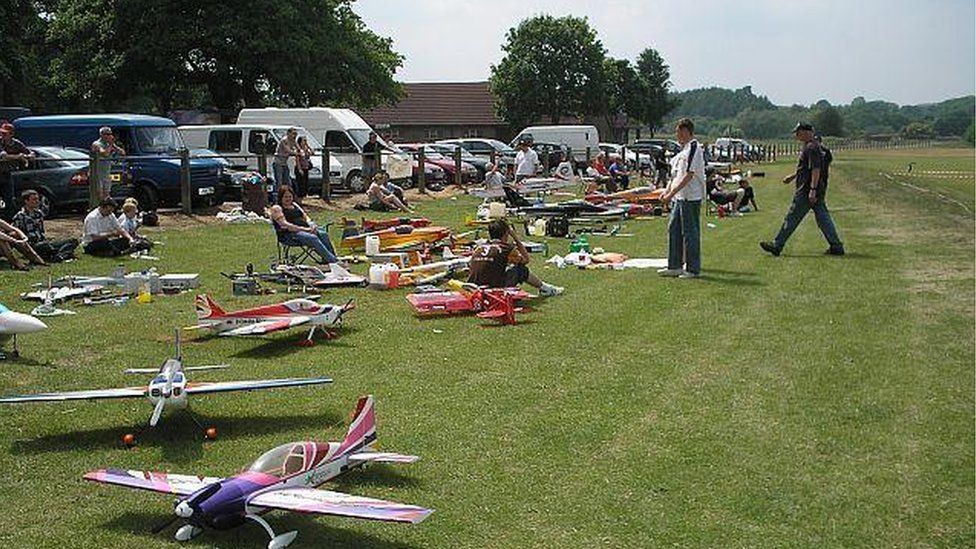 A model aircraft club which has used the same park since 1938 has been banned from flying there after EU rules came into force.
The local council has told Blackburn Model Aircraft Club to stop flying at Pleasington playing fields in the town because it was a "busy public space".
Club chairman Chris Boardman said members were "shocked and dismayed".
The council said model planes could "present a serious danger" and it had given the club an alternative site.
Mr Boardman said the club had a 100% clean safety record for more than 80 years.
He said the club hired a section of the park like other sports teams and there were clear signs letting members of the public know when they were flying.
Blackburn with Darwen Council said its legal department had reviewed EU regulations on model flying, adopted by the UK, which came into effect on 31 December.
The regulations state that unmanned aircraft "will not be flown in areas that are used for residential, commercial, industrial or recreational" purposes.
The council wrote to the aero-enthusiasts telling them "it would no longer be appropriate for the club to be based [at Pleasington]" because it was a "very busy public space".
Mr Boardman said the council had not interpreted the legislation correctly and the club would fight the ban with help from the British Model Flying Association.
He said other sports, like cricket, horse-riding and football, presented a risk to the public but there was "clear control" when it came to the club's planes.
Mr Boardman said the council had only suggested an alternative site in another town, "nothing to do with the area".
Martin Kelly, the council's strategic director, said he understood the club would be disappointed but "we have to put the safety of our residents and visitors first".
He said while most model aircraft were likely to be "harmless recreation", their size, weight and the speed they are flown, meant there was potential "to present a serious danger to the public".
"The council would quite rightly be held accountable if someone was seriously injured or worse," he said.
Related Internet Links
The BBC is not responsible for the content of external sites.