Boxer Brian London who fought Muhammad Ali for world title dies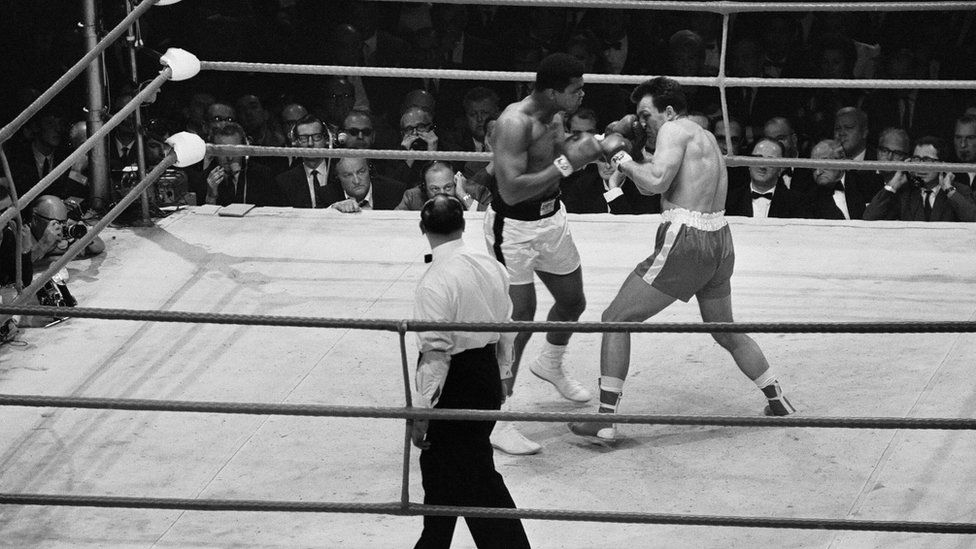 Boxer Brian London, who challenged Muhammad Ali for the world heavyweight title in 1966, has died aged 87.
London, who took his nickname of "The Blackpool Rock" from his hometown, fought Ali days after England had won the football World Cup.
Despite being buoyed by a spirit of national optimism, the Hartlepool-born boxer was defeated in the third round.
Former UK Olympic boxing coach Kevin Hickey said London "did his sport proud [and] did Blackpool proud".
London, who was born Brian Sidney Harper, moved to Blackpool when he was 16 and was encouraged to take up boxing while doing national service with the RAF, after an officer discovered his father was former British and Commonwealth heavyweight champion Jack London.
He beat Joe Erskine to become British heavyweight champion in 1958 but was deposed a year later by Sir Henry Cooper, who said nobody hit him harder in his career.
London was involved in two world title fights - the 1966 clash with Ali and a match against Floyd Paterson seven years earlier, in which he took the American to 11 rounds before losing by a knockout.
Years after the 1966 fight, he admitted in a BBC interview years later that he was "not good enough" to defeat Ali, but his son-in-law Dave Garside said the American's trainers were wary of London's abilities.
He said he was told by Ali's manager Angelo Dundee that London's first-round knockout victory over one of his other boxers, Roger Rischer, in 1964 had a huge bearing on how the fight was approached.
"It was personal, Dundee said they told Ali 'this guy can fight'," he said.
He was fined £1,000 for his role in the brawl, which saw him punching Richardson's trainer.
London's final fight was a defeat by Joe Bugner in 1970 and he went on to run a nightclub in the seaside resort.
The 007 Club was opened by superstar footballer George Best and frequented by sports stars and showbiz icons such as Dame Shirley Bassey.
A fearless fighter remembered
Steve Bunce, BBC Radio 5 Live boxing podcast
Big Brian was a lump. A funny man - you run nightclubs in Blackpool, you better have a sense of humour - and he was fearless in fights he had no chance of winning.
The 50s/60s heavyweights did stupid things - they had to fight.
Brian had a sequence of fights between February 1958 and December 1959 that is brilliant and ridiculous at the same time: Pastrano twice, Patterson, Erskine, Cooper, Valdes. And it continues like that.
He had about 25 fights against the best heavies in the world: Ali, Quarry, Machen, Spencer, Bugner, Folley, Johansson. Ridiculous.
It entered football folklore when London entertained his friend Bobby Moore and the England captain's West Ham teammates on the eve of an FA Cup third round tie against Blackpool in 1971 which looked like it would be postponed due to a frozen pitch.
"We were only gone for a few hours - I think we were back by midnight," he said.
However, to the surprise of the players, the tie went ahead the following day and their night on the tiles, which made front page news on the following Monday, contributed to a humiliating 4-0 loss.
Friend and local councillor Tony Williams said London was a popular and "larger than life character" in the town.
The councillor, who played bass in folk-rock band Stealers Wheel in the 1970s and has campaigned for a council-owned sporting arena to be named in London's honour, said when he played at the club, the ex-boxer "used to come up behind me and grab my long hair, saying 'I've got you by the mullet'".
The former boxer's funeral will take place on 6 July and will see the cortege drive past Stanley Park, where he was a regular jogger, and close to his former home.