Rolls-Royce Barnoldswick: Workers protest over factory's future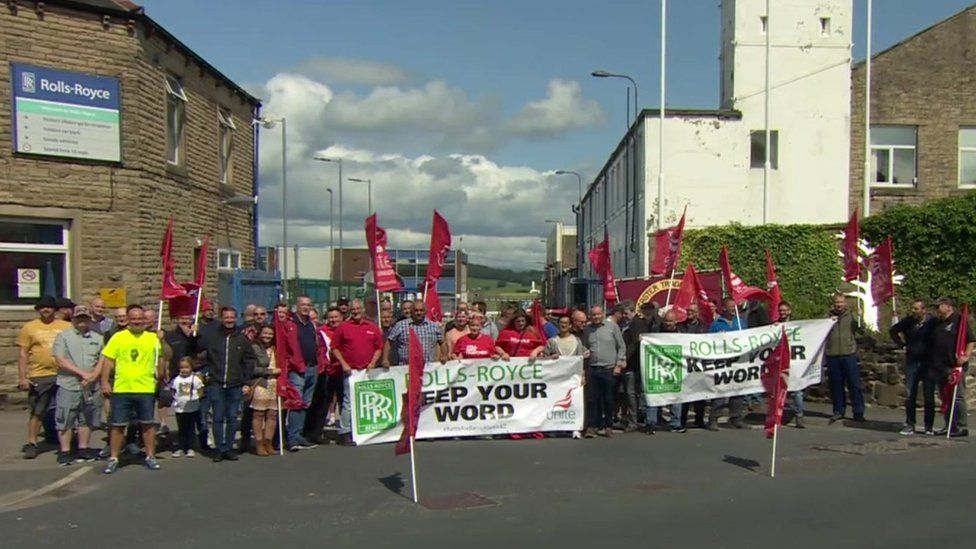 A group of engineers at a Rolls-Royce factory have staged a protest over fears for the site's long-term future.
Members of the Unite union at the Barnoldswick factory took action on Monday after it emerged in May its staff headcount could drop below 350.
The union said the firm had "refused to provide tangible commitments" over plans to scale back production.
Rolls-Royce said it was "disappointed" by the protest and said it would honour its agreement to retain 350 site roles.
In January, Unite said a deal was agreed with workers which guaranteed the future of the factory.
The union said it was decided that Barnoldswick would continue with a minimum headcount of 350 workers and a centre of excellence would be built to train workers.
However in May, Unite said the figure would not be reached and orders would continue to be completed abroad.
A total of 17 engineers took strike action in July and a ballot for the site's entire workforce to join them in the strike closes on 13 August.
"This dispute could be put to bed very quickly if Rolls-Royce's leadership demonstrate to the workers that the agreement signed in January is still valid," said union officer Ross Quinn.
He said the firm "promised a green new deal, but all we have seen is corporate greenwash" and added that workers wanted to know "whether a Rolls-Royce guarantee means anything".
A spokesman for Rolls-Royce said the company would honour all its agreed commitments, which included no compulsory redundancies and a £4.2m training school.
"As part of our guarantee to retain 350 site roles, we have increased the work programme roles from 200 to 270 alongside further training jobs," he added.
Related Internet Links
The BBC is not responsible for the content of external sites.