Covid: Lancashire health boss uses poster made by daughter, 10, in campaign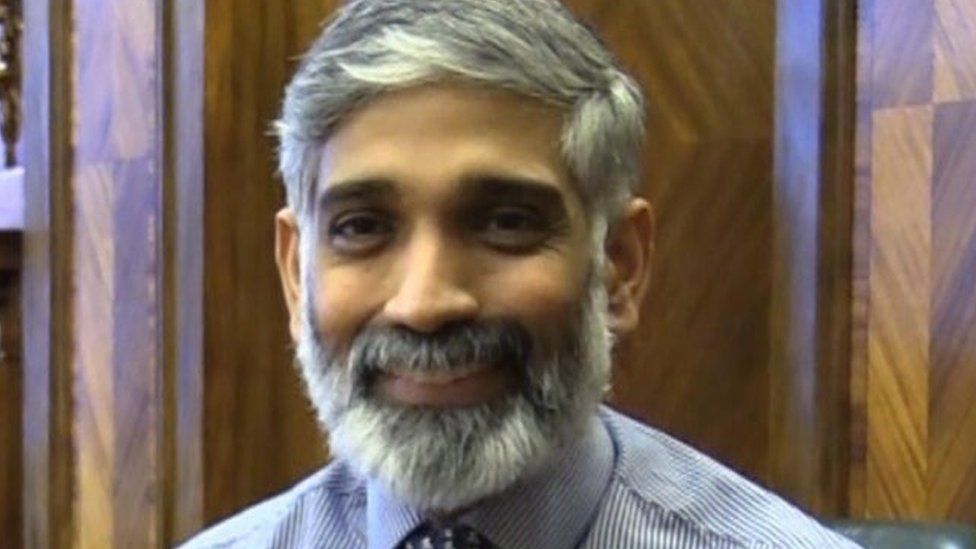 Lancashire's public health boss is using a message from his 10-year-old daughter in a Covid safety campaign.
Dr Sakthi Karunanithi said he was inspired by a poster she designed for healthcare workers tackling the pandemic including phrases like "never give up" and "don't be afraid".
Lancashire's director of public health said she held it up to him while he was on a call, leaving him "welling up".
He hoped it would prompt the public to protect themselves and others.
Dr Karunanithi said he hoped publicising the poster - hanging in his hallway - would give strength to colleagues in the NHS and local government who were "absolutely on their knees after two years non-stop".
"She saw me just [being] busy all the time, so she wrote the poster and then put it in front of my face at the end of a call. I was very moved by it and I was actually welling up."
"This time round, it feels like we need to do it for our children, because that's where the virus is circulating so highly at the moment," he said.
He added: "They are the ones that are more vulnerable now to Covid infection" and "we all have a moral and special duty to protect [their] futures".
Lancashire County Council's director of public health said his daughter's message had now taken on an added significance as the NHS faced up to the challenge of administering a million does day in the coming weeks.
Related Internet Links
The BBC is not responsible for the content of external sites.