Freckleton woman, 91, fatally attacked by fellow care home resident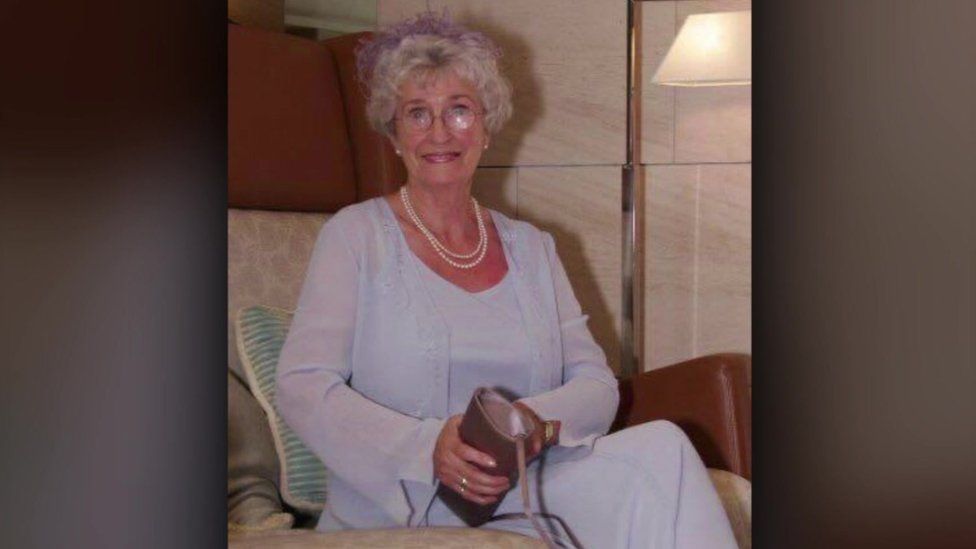 A 91-year-old woman was fatally attacked in her bedroom by a fellow care home resident who had a history of violence, an inquest has heard.
Jessie McKinlay died two months after she was punched and kicked by the man, who had dementia, in February 2019.
In the preceding months he had also attacked residents and staff at the Old Vicarage in Freckleton, Lancashire.
At Ms McKinlay's inquest, coroner Alan Wilson highlighted "failings" by the care home, social services and the NHS.
Georgia Moon said the way her mother died was "traumatic", adding "we had no idea there was someone running amok at the home, so it was a real shock".
Ms McKinlay, who moved into the care home near Preston in 2018, had mild dementia and was described by the coroner as "frail".
A former member of staff at the home said Ms McKinlay's attacker pulled her out of her bed in the early hours of the morning and pushed her into a doorway before throwing her into a corridor where he continued the assault.
Samantha Davis said the man then attacked members of staff who restrained him.
When police arrived, though, he was "calm" and "confused".
It was decided that Ms McKinlay's attacker, who has since died, did not have the mental capacity to stand trial due to his dementia.
Ms McKinlay's inquest at Blackpool Town Hall was told he had punched and kicked staff and residents and had been physically aggressive towards his wife.
Mr Wilson, coroner for Blackpool and Fylde, said in the months before the attack, a mental health professional had recommended the man be placed in a specialist home for people with severe dementia.
The home gave "weight" to his family, though, who "preferred him to stay put".
Mr Wilson said: "The quality of management oversight at the home was less than was needed."
The inquest was also told the attacker's conduct led the home to serve Lancashire County Council with a notice requiring him to leave in October 2018, but it was rescinded weeks later after a review of his medication and "efforts to reduce his agitation".
Mr Wilson said the decision to rescind the notice had been "a mistake".
Care home manager Sharon Clayton said the home had been "begging" social services and NHS teams for help.
She accepted that residents and staff were "physically at risk" because of the resident's violence.
Mr Wilson said the local social services and mental health team "didn't pay close enough attention and were not asking enough questions".
In his narrative conclusion to the case, the coroner determined Ms McKinlay's death was not contributed to by neglect by the home or any of the agencies involved in her care.
Ms Moon said: "No-one is being taken to account about what happened."
Related Internet Links
The BBC is not responsible for the content of external sites.