Fracking: UK's only shale gas wells to be sealed and abandoned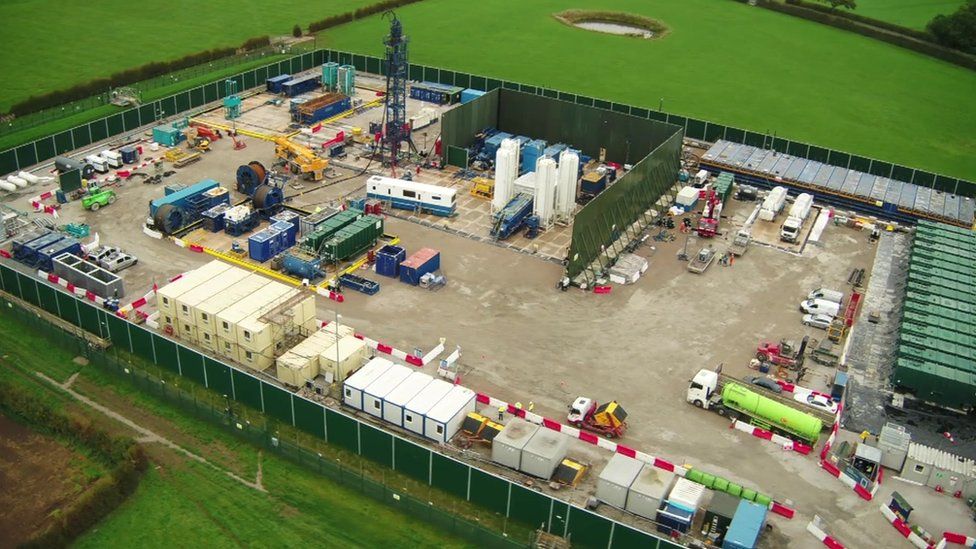 The UK's only two shale gas wells are to be abandoned after the industry regulator ordered them to be sealed.
The Oil and Gas Authority (OGA) ordered that they now be plugged with concrete.
The site's owners, energy firm Cuadrilla, said the decision was "ridiculous" amid rising gas prices.
The wells at Preston New Road were the first to frack horizontally onshore in the UK - a process which releases gas from shale rock.
After an earthquake with a magnitude of 2.9 was recorded near to the site in August 2019, it was concluded by the OGA it was not possible to predict the size of tremors caused by the practice.
Cuadrilla's chief executive Francis Egan said the OGA order "had not been properly thought through" amid an "energy crisis".
"It will be incredibly costly and difficult to rectify this mistake," he said.
"What is more ridiculous is that leaving our own shale gas in the ground will make reducing global emissions even harder.
"Shale gas from the North of England has the potential to meet the UK's energy needs for decades to come, yet ministers have chosen now, at the height of an energy crisis, to take us to this point."
However, the Prime Minister's official spokesman said shale gas from fracking was "not a short-term fix" and was "still unproven as a resource in the UK".
He said the development of domestic energy sources "must be safe and cause minimal disruption and damage to those living and working nearby".
"We ended support for fracking based on scientific evidence so any further development would need to go through the necessary processes," he said.
He added that even if the moratorium "were lifted tomorrow, there's unlikely to be sufficient quantities of gas available to address the high prices affecting all of Europe and would have no impact on prices in the short term".
Prof Richard Davies, of Newcastle University, said fracking in the UK was "only ever going to be a small contributor to our use of gas".
He said there was a "lack of acceptance from people and a supply chain that was big enough to bring costs down".
Susan Holliday, who lives near the site, told BBC North West Tonight the decision to plug the wells was a "step forward", but "it was not the end" of fracking in the area.
"The site has to be decommissioned and there is no news on that yet," she added.
Related Internet Links
The BBC is not responsible for the content of external sites.