Rare butterflies thriving after reintroduction bid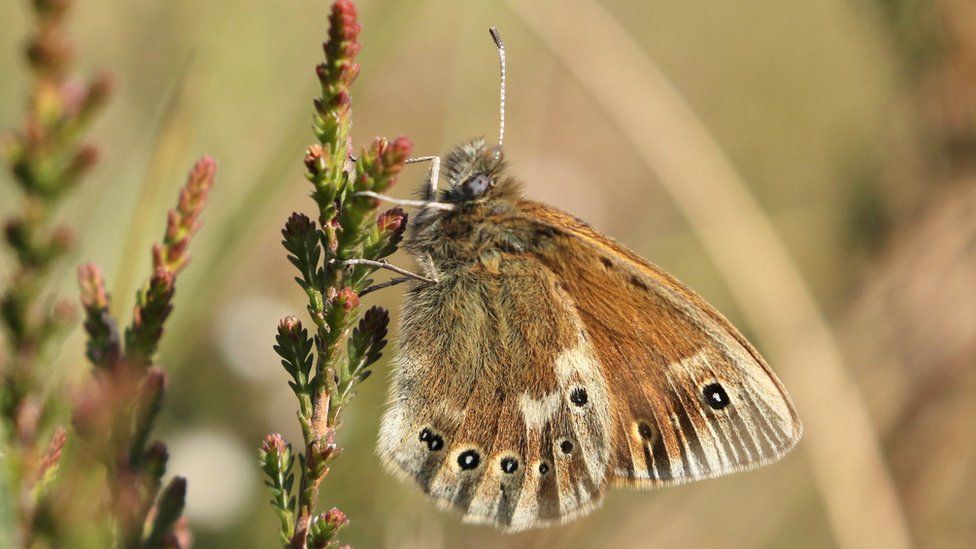 A rare butterfly that once thrived in the peatlands of Greater Manchester is now "flourishing" after being reintroduced in 2020, experts say.
The large heath butterfly was once so widespread that it was locally named the Manchester argus.
But its habitat was wrecked by the 19th Century arrival of the Liverpool and Manchester Railway.
Wildlife experts said they were "optimistic" about the species, which is now "breeding strongly".
They reintroduced the fluttering insect in 2020 and 2022 in north-west England, with another batch due to be released this summer, a spokeswoman for The Wildlife Trust for Lancashire, Manchester and North Merseyside said.
It followed the restoration of drained peat and vegetation.
Jo Kennedy, co-ordinator at Great Manchester Wetlands Partnership, said: "More than 98% of lowland peatlands in our region have been lost, creating a huge hole in our biodiversity."
She said experts - including Chester Zoo, Manchester Metropolitan University and Natural England - were "excited to be able to bring the Manchester argus back to Manchester".
"It's been a real team effort but, with three releases of butterflies now achieved, the population is breeding strongly and we are really optimistic about its future."
The butterflies were reintroduced after six pregnant females were collected under licence from an existing population at Winmarleigh Moss near Garstang, Lancashire.
Chester Zoo staff then cared for the butterflies while they laid eggs, before the caterpillars were released.
The precise locations of the reintroductions have not been revealed to help protect the butterflies.
Helen Bradshaw, from Chester Zoo, said the reintroduction was "part of our mission in preventing extinction worldwide".
"We're thrilled to see the remarkable resurgence of these rare butterflies in their native habitat after years of hard work and dedication.
"When reintroductions are done right like this they can be hugely successful."
The argus butterfly (aricia agestis) once thrived in the UK but declined due to changes in agricultural methods.
The species inhabit boggy peatlands and is very sedentary, rarely moving more than 100m during its entire life.
Their caterpillars are capable of surviving long periods of hibernation.
The cocoons hang from plants and are green with black stripes, allowing them to camouflage and avoid predators.
Surviving populations have existed in Scotland and northern England.
Sources: Lancashire Wildlife Trust, South West Scotland Butterfly Conservation, UK Butterflies and the Forestry Commission