Historic Thwaite Mills building in £200,000 restoration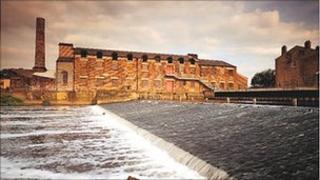 An historic building at a Leeds water mill has reopened after a £200,000 renovation by the city council.
Thwaite Mills at Stourton is home to one of the few remaining industrial drying sheds of its kind in the world.
The restoration, which began in September 2009, has turned part of the drying shed and warehouse into an exhibition of the mill's history.
The 19th Century drying shed was used to dry and store putty and ground chalk produced by the mill.
Dating back to 1641, Thwaite Mills began life as a textiles mill before it later became used for wood, oil, and corn-grinding and then for stone-crushing and making putty before being closed in 1976.
It lies on an island between the River Aire and the Aire and Calder Navigation canal two miles outside Leeds city centre.
Leeds Central MP Hilary Benn, who is also president of the Thwaite Mills Society, said: "I am delighted to see another stage completed so successfully in the development of the Thwaite Mills Watermill complex, which is an extremely important recreational and educational facility for south Leeds."