MS woman from Bradford backs suicide case man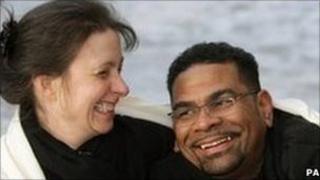 A right-to-die campaigner has vowed to help a man who is asking for clarity on the law on so-called mercy killing.
Tony Nicklinson, of Wiltshire, has "locked-in syndrome" and wants his wife to be allowed to help him die without the risk of being prosecuted.
Debbie Purdy, a multiple sclerosis sufferer from Bradford, became Britain's most prominent activist in the legal battle over assisted suicide.
She won a ruling from Law Lords to clarify the law almost a year ago.
Mr Nicklinson, of Melksham, Wiltshire, communicates by blinking or nodding his head at letters on a board.
His lawyers say he is "fed up with life" and does not wish to spend the next 20 years in this condition.
Ms Purdy vowed to continue campaigning for a change to the law to give other people the same clarity she feels she now has herself.
She said she was "wholeheartedly" behind Mr Nicklinson.
She added: "With the legal team he has got behind him - the same as mine - he has every chance possible of being successful."
Ms Purdy fought a long and hard battle to find out whether her husband, Omar Puente, would be prosecuted for helping her to end her life.
She now knows that if he is judged to have acted with compassion, a prosecution will not be pursued.
Ms Purdy, who uses a wheelchair, said she was not satisfied yet because the guidelines only applied after somebody has died.
She backed author Sir Terry Pratchett's idea for "tribunals" to look into cases where seriously ill people want to end their lives.
Last July, five Law Lords backed her call for a policy statement on the circumstances in which a person such as her husband might face prosecution for helping a loved one end their life abroad.