Teachers strike over 'bullying' in Leeds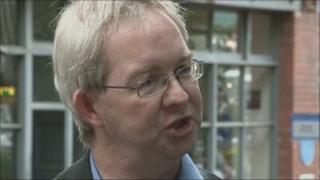 Teaching staff at a secondary school in Leeds are striking over allegations of bullying by senior management.
Talks between unions and Education Leeds failed to avert action at Farnley Park Maths and Computing college.
About 840 pupils at the school will be supervised on Wednesday by non-teaching staff and the senior management team.
The head teacher, John Townsley, denied union claims that the school ran a "climate of fear" and said that it was an "increasingly happy school".
Patrick Murphy of the National Union of Teachers, said: "Excess work load has been demanded upon them, then it moves on to people being shouted down for questioning that."
He claimed union representatives had been sworn at, at meetings, for raising issues.
He added: "It's a litany of things that have really affected our members over the last six or seven months."
But head teacher, John Townsley, who is also head teacher of Morley High, said Farnley School had been under performing for years and change had to happen.
He said: "We don't run a climate of fear. We run a school that is an increasingly happy school.
"It isn't about fear, we have to challenge where under performance is so evident and so unacceptable to parents and students, we make no apologies for doing that.
"We are not about fear we are about improvement and we have to bring that about quickly or children lose out on so much."