Leeds council seizes illegal street signs in clampdown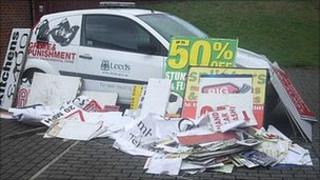 Hundreds of illegal advertising signs have been seized in a clampdown by council officials in Leeds.
More than 400 placards, banners and flyposters were removed from road barriers, lampposts and signposts in just one day, the council said.
"Illegal signs can be a blight on our city's streets, making streets look untidy and causing a distraction for drivers," a council spokesman said.
"Having to take down 400 signs in one day shows the scale of the problem."
Tom Murray, Leeds City Council's executive board member for environmental services, said: "I appreciate that in these difficult times advertising is necessary for businesses, but we really do need to emphasise that lampposts are not free advertising hoardings.
"The trouble is that it is so easy for people to attach these signs, and once one person does it, many others follow."
The council's Health and Environmental Action Service has served 194 notices under the Highways Act in the last 12 months on companies and individuals, requiring them to remove their signs within 48 hours.
The council said companies that persisted in illegal advertising would be prosecuted and could be fined up to £1,000.