Fat fears spark takeaway scrutiny in Wakefield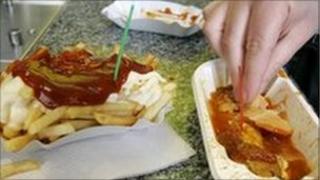 New takeaways could be stopped from opening in Wakefield to try to cut obesity levels.
A council committee is looking into whether there is a direct link between fast food and the number of overweight people in the city.
They say it is because obesity rates are higher in Wakefield compared to what is expected nationally.
More than one in five children in England start their school life overweight or obese.
Figures from the NHS Information Centre released last December showed that by the end of primary school that rate increased, to nearly one in three.
Councillor Kay Binnersley is the chairwoman of the Wakefield Council committee considering the plan. She said it was about "educating people."
She said: "People may say 'I like a takeaway every night and you're not going to stop me'.
"But we need to make it clear to these people that in 20 years what state their health may be in. Will they have blocked arteries, will they have heart disease and what pull will that have on the National Health Service, because it obviously will?"
'Moderation'
She added: "We are not saying that every takeaway is the culprit of this, we are not saying people with obesity just get that from eating the food, some people have illnesses that create this.
"But we have got to look at all these measures."
Michael Stoy runs Olde England Fisheries in Wakefield. He said fast food was not the only factor that led to obesity.
He said: "You have a duty to look after yourself.
"We all know that anything in excess is bad for you and if anything is done in moderation then there is no problem and, eating any takeaway you wish to eat, and mixing with other foods is fine."
It is envisaged the decision about whether to restrict the number of takeaways in the city will be made later in the year.