Thousands gather at events in Leeds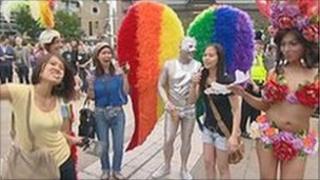 Thousands of people gathered at events in Leeds throughout the weekend.
The city hosted the Lesbian, Gay, Bisexual and Trans Pride Festival and the Leeds Asian Festival, which was celebrating its 15th anniversary.
West Yorkshire Police said both events had run "smoothly" during Sunday and there had been no reported problems.
The Pride festival took place in Millennium Square, followed by a parade through the centre. Leeds Asian Festival was based at Roundhay Park.
Inspector Peter Lobb from West Yorkshire Police said on Sunday afternoon, that there had been no incidents at either event.
He said: "It's been very good natured. Everyone has just enjoyed themselves."
The Leeds Asian Festival featured a range of live music acts, a funfair and a world food court.
A number of live musical acts also performed at The Pride event. This was followed by a parade through the city centre - featuring mechanised and walking floats from local groups and businesses.