Gay Leeds barman attacked days before Pride festival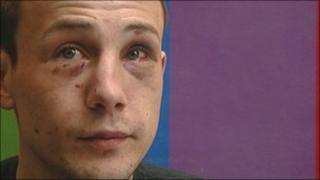 A gay barman has told how he was pulled to the ground and beaten after two men confronted him about his sexuality.
Dane Holdsworth, 21, from Leeds, says he was punched, bitten, strangled and kicked after the men questioned him about his rainbow coloured wristband.
Police confirmed they were investigating the incident on Friday night, less than 48 hours before the city's Gay Pride event.
Mr Holdsworth said the attack had shattered his confidence.
The barman told BBC Look North he was walking from his work in the city centre to his father's home when he was approached by the men on York Road.
They saw his wristband and asked if he was gay.
"I said 'yeah' - I'm not going to lie about it. They looked as if they were just going to walk off, then as they walked past one of them grabbed me and pulled me down and they just started laying into me.
"I passed out while they were hitting me. One of them sat on top of me while the other was hitting me. And then I think one of them bit me and then they tried to strangle me."
He said the attack had affected him mentally as well as physically and he did not want to go out anymore.
'Education' call
"I didn't choose to be gay, I can't help how I feel about people," he added.
"I don't flaunt it, I don't push it in people's faces, but when people are coming up to you and hitting you for being gay... I didn't think it would happen now, I thought everything was gay-friendly. But it's not at all."
Mr Holdsworth was assaulted less than 48 hours before 23,000 people gathered in Leeds to celebrate the Pride event.
City councillor Terry Grayshon said: "What has happened to Dane is particularly unacceptable in this day and age. It's 2010, you don't expect that people will have such bigoted views."
Mr Holdsworth's boss at the city's Viaduct Bar, Terry George, added: "There are one or two people out there who still need educating, unfortunately, and we need to work towards educating people that homosexuality is part of life."
West Yorkshire Police confirmed it was investigating the incident.
The force's Ch Supt Barry South said it took hate crime seriously and encouraged the reporting of such incidents.