Leeds Lumiere skyscraper firm seeks liquidation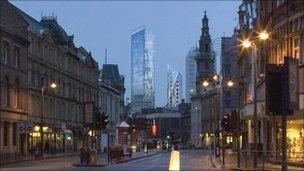 Investors who put money into a major development will soon be able to claim their cash back after the firm behind it confirmed plans to seek liquidation.
The £225m Lumiere scheme in Leeds, which would have included one of Europe's tallest residential buildings, was put on hold in 2008.
At the time millions of pounds worth of deposits were frozen.
Lumiere Leeds LP said starting the liquidation process was "the best course of action for buyers".
In May investors started the process of taking legal action against the developers in an attempt to get their deposits back.
Peter Mason, who paid a £50,000 deposit for four off-plan apartments, said: "This is fantastic for us.
"We have been waiting, pushing hard. It's been a tremendous battle for us."
The Lumiere project, which was approved by council planners in 2007, was to include two glass towers of 54 and 32-storeys.
More than 700 of the 952 apartments which make up the towers had been sold when the scheme was put on hold due to the economic downturn.
In a statement, Lumiere Leeds LP said: "The development is no longer commercially viable and regretfully, despite the strenuous efforts of Lumiere LP's directors and partners, the decision has been taken to hold a creditors' meeting on 1 September 2010 to begin the process of liquidating the assets.
"Lumiere LP believes this is the best course of action for buyers who have reserved apartments off-plan at the development."
The firm said investors would be able to lodge a claim for their deposits against an insurance policy which was taken out to protect their interests.
Related Internet Links
The BBC is not responsible for the content of external sites.