Roof lead theft leads to Leeds school flood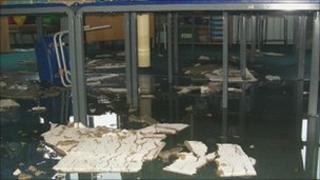 Part of a Leeds school has been flooded and forced to close after thieves stole lead from its roof.
Thousands of pounds worth of lead was taken from Burley St Matthias School's roof during the summer holidays.
Rain broke through temporary repairs on Monday night, flooding the building used by pupils in years three to six.
The school said: "The library is sodden, ceilings have fallen in and the electrics are also damaged."
Education Leeds is assessing the damage and searching for nearby community buildings the school can use while the damage is repaired.
Buildings unsafe
A spokesman said: "It could be forced to use alternative buildings for more than a week."
Joanna Jobson, the school's acting head teacher, said: "Having our roof stolen was bad enough but the flooding has really damaged our school and upset our children and staff.
"The buildings are currently unsafe for the children to be in and we are looking for other buildings to use so the disruption to their education is kept to a minimum.
"I hope the thoughtless and callous thieves are proud of their actions and realise the huge negative impact they've had on our school and our children."
Anyone with information about the theft is urged to contact West Yorkshire Police.