Ex-Connaught workers' in Leeds angry over wages worry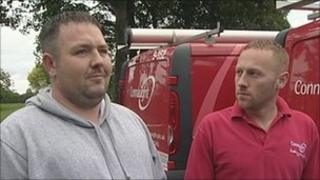 Former Connaught workers in Leeds say they are angry after receiving three days of wages instead of the three weeks pay they claim they are owed.
Some employees of the firm, which is expected to be transferred to the company Lovells Partnership, said they were struggling to make ends meet.
Lovell Partnerships said one one weeks wages would be paid to staff on Friday.
This arrangement would continue until the payroll was fully transferred, providing they take over the contract.
Workers also raised concerns about fuel cards for their vans, which they say have been cancelled.
Property and environmental services giant Connaught was put into administration earlier this month.
The company, which appointed KPMG as administrators, said it had failed to secure funding to pay £220m of debt.