Posthumous bravery award for crash death Leeds soldier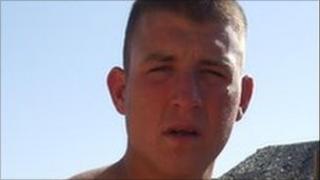 A Leeds soldier who continued detecting land mines in Afghanistan despite being severely wounded is to be awarded a posthumous bravery medal.
Rifleman Ross Robinson, 21, was clearing the ground of improvised explosive devices (IED) when he and colleagues were hurt last year.
He struggled to his feet and began clearing a route to the casualties.
The soldier, who died in a road accident in May, is to receive the Queen's Gallantry Medal for bravery.
He died the day after being discharged from a military rehabilitation centre.
Rifleman Ross, who is among 131 service personnel being honoured, was deployed to Helmand Province in October 2009 as part of A Company, 4th Battalion, The Rifles.
He was 10 yards behind another soldier who set off an IED, blowing him into the air and leaving him with serious spinal injuries.
With his section commander also wounded and unconscious from the blast, the soldier picked up his metal detector and began clearing a safe route.
'Remarkable endurance'
He gave first aid to other casualties and cleared an area for the rescue vehicle.
It was only when he returned to camp that the soldier's legs began to go numb, making walking impossible.
An X-ray confirmed spinal injuries, requiring immediate evacuation home for treatment.
He was then killed on 24 May when he was hit by a van on the A303 in Wiltshire, a day after he was discharged from rehabilitation centre Headley Court in Surrey.
The citation for his Queen's Gallantry Medal for bravery reads: "By his action Robinson had enabled the swift, safe treatment of the casualty and kept the remainder of his section safe when they were in extreme peril of further IEDs.
"Despite his own serious injury Robinson took the initiative with no thought but to help his fellow stricken Rifleman.
"Having served for only nine months, and on his first operational tour, he displayed remarkable endurance and devotion to duty."