Floor removal ruling in Leeds office block light row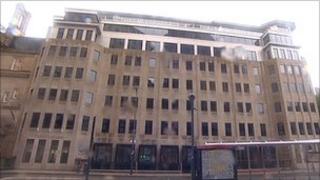 A judge has ruled that part of a Leeds city centre office block should be pulled down after another property owner claimed it blocked out his light.
Developer Highcross, which owns Toronto Square, has been told about one third of the top two floors of the building must be removed.
The firm took court action because of a dispute with Marcus Heaney, who owns a nearby property on Infirmary Street.
Highcross said it had applied to appeal against the decision.
The ruling means that the parts of the new sixth and seventh floors which interfere with the neighbouring property's light must be removed.
Highcross has estimated that the cost of the work to demolish the offending office space would be between £1m and £2.5m.
The dispute started after the developer was granted planning permission by Leeds City Council in March 2007 to build an extension to the then five-storey Toronto Square building.
Work on the additional two floors began in October 2008, and the building was completed in July 2009.
The decision was made by a judge at Leeds District Registry earlier this month.
He granted an injunction against Highcross, which currently lets out the seventh floor office space of its building to another company.
Mr Heaney claims the top two floors of Toronto Square are blocking out light to his property, the listed former Yorkshire Penny Bank building.
Matthew Baker, a member of his legal team at Pinsent Masons LLP, said: "Developers finally need to realise that they cannot just assume that rights of lights claims can be paid off prior to, or in the course of, a trial.
"Instead they need to resolve all potential claims before actually starting work, otherwise their prize development may end up being ripped down."
A Highcross spokesman said: "We have currently lodged our application to seek leave to appeal the judgement."