St Gemma's Hospice in Leeds hit by collection thefts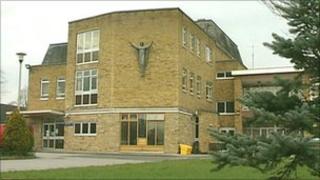 A Leeds hospice is losing hundreds of pounds a week in charity donations as thieves steal doorstep collection bags.
St Gemma's Hospice in Moortown has seen a big increase in thefts since July and estimated it could lose £20,000 this year alone if the trend continued.
Police are also investigating break-ins at the charity's shop in Alwoodley.
Vicky Burnett, the charity's retail manager, said: "They are taking money directly away from our patients and their families, which is just awful."
She said the charity's volunteers would normally collect about 40 bags of donated clothing every day, but this had recently dropped to fewer than 10 bags.
"All our volunteers work really hard and our donors give us lots of things for free so we can make that money and these people are stopping us from doing that."
Volunteer collector Jan said: "I'm really upset and really angry. What sort of people can actually rob from a charity shop?
"They are taking money from people who are needing comfort while they're dying."
A West Yorkshire Police spokesman said: "We would ask people to remain vigilant and to contact police if they see any people or vehicles acting suspiciously around areas where charity bags have been left for collection.
"Local people are being charitable by donating their second-hand goods and it is not acceptable for anyone to steal them for their own gain.
"That is theft and anyone found to be involved will be arrested and appropriate action taken."