Leeds libraries could close in shake-up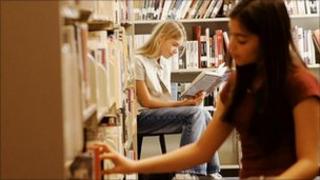 Up to 20 libraries in Leeds could be closed if a proposed shake-up of the service gets the go-ahead.
The city council plans instead to provide modern mobile libraries and extend opening hours at many of the city's remaining 33 library buildings.
If the proposals are backed by the council next Wednesday, they will then be put out to public consultation.
A council spokesman said the shake-up had the potential to cut £700,000 a year from staff and operational costs.
He said the possible changes were based on feedback from library users, who had called for longer opening hours, increased access to computers, a wider selection of books and the ability to use new technology such as e-books.
A report to the council said that of the four million visits to the city's 53 libraries in 2009/10, 2.8 million were made to just 13 libraries.
The 20 least well-attended libraries received just 132,000 visits during the same period.
The council said that due to their limited opening hours more than £1m of book stock was not fully accessible.
One library assistant, who did not wish to be named, told BBC News: "I'm furious really. This is really bad for the city.
"These libraries are community resources and most of them are in deprived areas of the city.
"They're not just places to borrow books, they're somewhere people go to read the paper or for a bit of company, children come in to do their homework, people come in to print off a CV or get a bus timetable.
"I know the council needs to save money but to close 20 libraries does seem quite savage, it's a step too far."
'Modern approach'
However, Adam Ogilvie, the council's executive board member with responsibility for libraries, said: "This consultation would be all about giving the people of Leeds the chance to tell us what kind of library service they want.
"The advance of technology has seen people now able to access library services in a number of different ways and without even physically needing to visit a library building.
"We want to offer people greater access to our services by adopting a modern approach which meets their needs.
"Should this consultation proposal go ahead it would be hugely important for as many people as possible to tell us what they think - their views are absolutely vital in making any change a success."
The 20 libraries are: Allerton Bywater, Armley Heights, Belle Isle, Broad Lane, Cow Close (Farnley), Drighlington, Holbeck, Ireland Wood, Kirkstall, Lofthouse, Methley, Osmondthorpe, Rawdon, Richmond Hill, Scholes, Shadwell, Swarcliffe, Swillington, Swinnow and Whinmoor.