Funeral for Segway tycoon Jimi Heselden in Leeds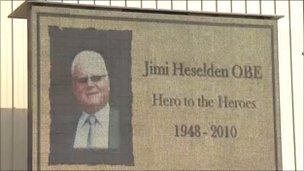 Thousands of people have attended the funeral of a millionaire who died after falling from a cliff on a Segway scooter made by his own company.
Jimi Heselden, 62, died from multiple injuries after the incident near his home in Boston Spa.
The former miner turned entrepreneur made his fortune with his Leeds-based firm Hesco Bastion.
A funeral service was held at his business premises in Leeds followed by a private family burial.
Employees lined the route outside the factory as the cortege arrived and giant screens showed dozens of pictures from his life.
The Reverend Tony Thompson, who led the service, said: "He never forgot his roots. East Leeds always had a special place in his heart. He was so proud of his home city."
Among those who attended the funeral was a soldier from the US Army whose life was saved by a type of protective barrier developed by Mr Heselden's firm.
Mr Heselden made his fortune when his firm developed the "blast wall" basket, which protects soldiers in Afghanistan and Iraq, as a replacement for traditional sandbags.
Sgt David McGregor travelled from the US for the service.
He said: "I'm here to pay tribute and thanks to a man who saved my life through his product."
He added: "If that basket had not been there then I would have been killed instantly."
Mr Heselden was reported to have been worth £166m, but was a well-known philanthropist, giving millions of pounds away to charities including the Leeds Community Foundation and Help for Heroes.
Sally-Anne Greenfield, from Leeds Community Foundation, said he was an "amazing guy".
"He was incredible," she said. "He was funny, lively. He would stop in the middle of a meeting and tell a couple of jokes and then go back to business.
"He was very approachable, down to earth, just a really amazing guy."
Last year Mr Heselden led a British takeover of the US-based Segway company, which makes and distributes the distinctive two-wheeled, self-balancing scooters.
Related Internet Links
The BBC is not responsible for the content of external sites.