Blood cancer research accolade for Leeds and York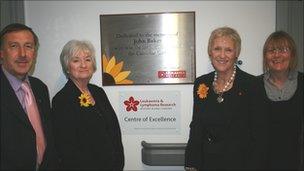 Two Yorkshire cities have been named as centres of excellence for blood cancer research.
Leukaemia & Lymphoma Research said Leeds and York had outstanding records of research into blood cancers.
The charity has invested £7.5m in 11 research projects at the University of Leeds and the University of York.
A plaque recognising the cities' strength of cancer research and treatment has been unveiled at St James's Hospital in Leeds.
Two of the original Calendar Girls, who have raised more than £2m for Leukaemia research since their near-naked Women's Institute calendar was produced in 1999, attended the unveiling on Tuesday.
The plaque has been dedicated to John Baker, whose death from non-Hodgkin's lymphoma in 1988 inspired the women, including his wife Angela, to make the calendar.
Dr David Grant, the charity's scientific director, said: "Leeds and York have an outstanding record of research and our scientists at these institutions have made a huge contribution to improving diagnosis and treatment for blood cancers in recent years."
One of the charity's research projects is the Yorkshire and Humberside Haematology Research Network, which is studying data on every newly-diagnosed blood cancer patient across the region.
The charity said the resource, a partnership between the Leeds and York universities, was providing "vital information to improve diagnosis and guide treatment for patients".
Related Internet Links
The BBC is not responsible for the content of external sites.