Spending Review: Leeds council civil disobedience fears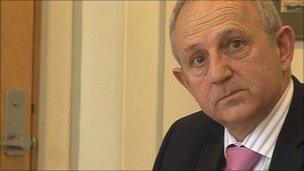 The leader of Leeds City Council has warned he fears "civil disobedience" among the city's young people because of cuts to public services.
The council expects to have to make spending cuts of £150m by 2015 as a result of the cuts in local government funding announced on Wednesday.
Labour council leader Keith Wakefield told BBC News: "Young people in this city now face a very bleak future.
"I'm sure we could well face the risk of civil disobedience in our city."
Mr Wakefield said he was "extremely angry" after learning that the council would have to make deeper-than-anticipated spending cuts.
The Conservative peer Baroness Sayeeda Warsi described Mr Wakefield's reaction as "deeply irresponsible".
"I think it is also irresponsible not to tackle the concern on the issue we have to hand," she said.
"I think what concerned me today was what we heard from the Labour benches was merely opposition for the sake of opposition rather than an acknowledgement of the debt crisis this country finds itself in."
The council now expects £50m of savings will have to be made in 2011 alone - significantly more than the £40m it had forecast.
"When you've got a budget that is already straining itself and being stressed out by the pressures and demands, that is an enormous challenge," Mr Wakefield said.
"Our big demands are with our elderly people and with our children and young people."
He said cuts already implemented in June had hit the voluntary sector, including services for unemployed young people.
"That was a massive setback, particularly for young people," said Mr Wakefield.
"Now when you look at today's budget, not only are we thinking of cutting services, but also cutting back grants like the Education Maintenance Allowance which allowed young people from working class backgrounds to go and study in further education.
"A lot of youth work we do is important in making sure there are activities for young people to do in this city.
"If you look at France, the protests about the pension age triggered off a lot of discontent within young people who feel they've not got a future there.
"I worry that young people in this city think if there isn't an offer for them to either go into training or jobs they will feel very unhappy with the society they live in.
"There are a number of ways you can express that and that is my biggest fear.
"I don't want to be overdramatic on this but clearly if you've not got a hope about a job or even a university course that can make you a very unhappy person about he society you live in.
"If you've got civil disobedience and a lack of policing to help people calm down the I believe you could have far more damage to our properties and goods than people expect."
Related Internet Links
The BBC is not responsible for the content of external sites.