Spending Review: Doubt over Leeds trolleybus plan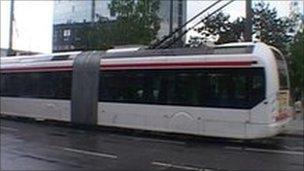 Plans for a £245m trolleybus system in Leeds are in doubt after the government announced the scheme would have to compete for funding.
Transport Secretary Philip Hammond said the proposal was one of 22 local authority projects which would now have to bid for a £600m funding pot.
The scheme, which was approved by the previous government, would provide a network of electrically-powered buses.
Leeds City Council said it was "very disappointed" by the decision.
The trolleybus network would link two new park-and-ride sites at the edge of Leeds with the city centre.
The Department for Transport (DfT) had earlier pledged to contribute £235m towards the scheme, with the remaining funding coming from the council and public transport provider, Metro.
Richard Lewis, the council's executive board member for development, said it had revised the scheme, so the government's contribution would now be less than £200m
"We are pleased that the Leeds trolleybus is included in the list of the 22 schemes which could still be in line for government funding, but very disappointed that we have to go through another bidding round and another year of uncertainty and delay," he said.
He added that the scheme would help speed up the city's recovery from the recession.
He said: "We will continue our work to press the government on the urgent need to deliver this scheme."
The government had also given the go-ahead to the proposed £15m entrance to Leeds railway station.
It is, however, subject to a final offer from the city council as a result of the Spending Review settlement.
The new entrance at Granary Wharf would allow passengers to access the station from both sides of the River Aire.
Related Internet Links
The BBC is not responsible for the content of external sites.