Leeds students continue tuition fees sit-in protest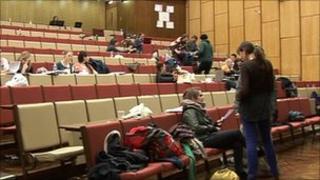 Students at the University of Leeds involved in a protest against tuition fee rises are continuing to occupy a lecture theatre.
On Wednesday about 1,000 students took part in a protest in the city over university fees, with dozens of schoolchildren also joining in.
About 40 protesters then went to the Michael Sadler Building and staged a sit-in protest in the room.
Food supplies and bedding were brought to the students on Thursday night.
A student spokesman said they may continue their protest on Friday and over the weekend.
Ian Pattison said: "We've had a letter from the university security department asking us to behave and respect the building.
"We've issued a list of demands to the vice chancellor which include that any cuts are not implemented.
"We've also sought an assurance that either collectively or individually there would be no repercussions for this [occupation] action."
The university said it understood the students' concerns but it was "disappointed" by the occupation of the lecture theatre and the resulting disruption to education.
It said the magnitude of the government's public spending cuts meant there was no alternative to increasing tuition fees in order to maintain education standards at the university.