Leeds students campus protest planned for third night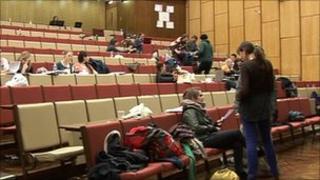 Dozens of students protesting about the rise in tuition fees are continuing to occupy a lecture theatre at the University of Leeds.
On Wednesday about 1,000 students took part in a protest in the city over university fees, with dozens of school children also joining in.
About 40 protesters then went to the Michael Sadler Building and staged a sit-in protest in the room.
Students said on Friday that they planned to stay for a third night.
On Thursday evening supplies and bedding were brought to the lecture theatre.
A student spokesman said they would discuss on Saturday whether the protest would continue for the rest of the weekend.
The university has said it understood the students' concerns but it was "disappointed" by the occupation of the lecture theatre and the disruption to education.