Police scan CCTV after Leeds Motorhead gig-link attack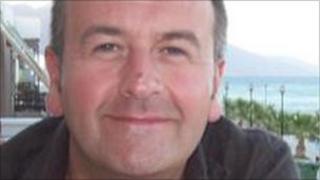 Senior detectives have been scanning CCTV footage to identify two men involved in a fatal altercation in Leeds.
Andrew Crawford, 44, of Wesley View, Pudsey, was attacked on Dudley Way near The Light shopping centre on Thursday evening. He died later in hospital.
Earlier, Mr Crawford had been at a gig by Motorhead at the O2 Academy when one of his friends' hair was set on fire.
Police said they were looking at CCTV and talking to Academy security staff.
Police officers are investigating whether the incident at the gig was linked to the fatal attack.
West Yorkshire Police said Mr Crawford was hit on the head several times and was taken to Leeds General Infirmary with serious head injuries, where he died shortly after 0200 GMT.
Vital information
Det Supt Paul Taylor, who is leading the inquiry, said: "This is an extremely serious incident and officers are following a number of positive enquiries to trace the people responsible.
"These enquiries include a thorough examination of Leedswatch and other CCTV cameras in the O2 Academy, along with working with the club's security staff.
"I am convinced that members of the public will have vital information which can assist our enquiries.
"I would encourage anyone in the Dudley Way, St Anne's Road or Cookridge Street areas at the time of the incident who saw the altercation or people running from the scene to contact us.
"There will have been around 2,000 people within the 02 Academy attending the concert, and someone must have seen Mr Crawford's friend's hair being set alight."