Leeds students vow to continue fees protest sit-in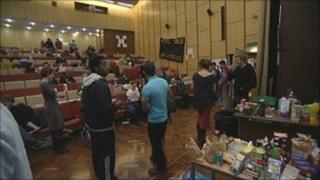 Leeds students who are protesting about the rise in tuition fees have said they will continue to occupy a lecture theatre until at least Tuesday.
About 100 students have been taking part in the sit-in at the University of Leeds since Wednesday.
They entered the Michael Sadler building after a protest in the city over fees.
The students have vowed to stay put until Tuesday, when a further day of national action is due to take place.
Spokesman Ian Pattison, 21, a politics student, said they were fighting against "massive, draconian cuts".
He said: "The whole point of occupations and strikes and walk-outs is to raise the question of who education actually belongs to - is it the staff and the students, or is it the government and management?
"We will stay until Tuesday, if not longer."
Food and bedding have been brought to the lecture theatre.
The university has said it understood the students' concerns but it was "disappointed" by the occupation of the lecture theatre and the disruption to education.