Leeds protest students face eviction from lecture room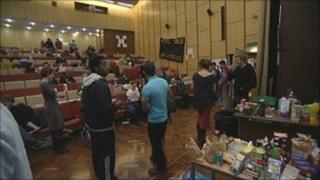 Students occupying one of the lecture theatres at the University of Leeds in a protest over tuition fees have been threatened with eviction.
A number of students have been staying in the Michael Sadler Building since occupying it on 24 November.
The university said it had given the students a reasonable time in which to protest but said they must now quit the lecture theatre on Wednesday morning.
The students have called for more people to attend the protest.
Roger Gair, University Secretary, said in a statement on the university's website that it would not accept an "indefinite occupation" of the lecture theatre.
'Mobilise in defence'
"We have to take account of the interests and the concerns of staff who work in the Michael Sadler Building," he said.
"We cannot ignore the disruption which your occupation is causing to the normal work of the university, for example preparation for next week's degree ceremonies, which has a potential impact on over 2,700 students - and their families and friends.
"Against this background, I hereby give you notice that you are trespassing in the Michael Sadler Building, and that the university requires you to leave the building by 8 am on Wednesday 8 December 2010.
"If you do not comply with this instruction, the university may take appropriate measures to regain possession of the building, without further notice to you."
The students' spokesman could not be contacted, but in an e-mail the group confirmed they had been given notice to quit the building.
It added: "The occupation is calling on all supporters to mobilise in defence of the students' right to peaceful protest."