Leeds protest students told sit-in can continue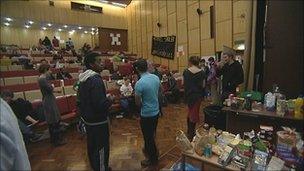 Students staging a sit-in at Leeds university who were facing removal will be allowed to stay for the time being.
A number of students have been staying in the Michael Sadler Building since occupying it on 24 November in a protest over tuition fees.
In a statement the university told students they must leave the building by 0800 GMT on Wednesday.
But a spokeswoman said that following talks, no immediate action would be taken to remove the students.
"The university has said that no action will be taken to remove them from the building today," she said.
Roger Gair, university secretary, said in a statement on the university's website that it would not accept an "indefinite occupation" of the lecture theatre.
"We have to take account of the interests and the concerns of staff who work in the Michael Sadler Building," he said.
"We cannot ignore the disruption which your occupation is causing to the normal work of the university, for example preparation for next week's degree ceremonies, which has a potential impact on over 2,700 students - and their families and friends."
Alex McCrae, one of the students involved in the sit-in, said they were prepared to hold further talks with university management over the issue.
He added that about 40 students remained at the sit-in.
Related Internet Links
The BBC is not responsible for the content of external sites.