Hundreds of students join fees protest march in Leeds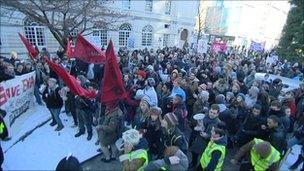 Hundreds of students have marched through the centre of Leeds demonstrating about the proposed increase in tuition fees.
The students marched from the university to the town hall building and then back to the Hyde Park area.
Spokeswoman Georgia Emblen said the students were not angry, but felt betrayed by the Liberal Democrat MPs.
West Yorkshire Police said the demonstration had been peaceful and there were no arrests.
Ms Emblen said: "The politicians should be listening to the students, they've made some concessions today saying that we don't have to pay back the fees until we earn £21,000.
"That's just not good enough, they're trying to buy us off, but it's not going to work.
"Our voices are here to be heard and our campaign is going to be listened to."
Earlier, students staging a sit-in at Leeds university who had been facing removal will be allowed to stay for the time being.
A number of students have been staying in the Michael Sadler Building since occupying it on 24 November in a protest over tuition fees.
In a statement the university told students they must leave the building by 0800 GMT on Wednesday.
But a spokeswoman said that following talks, no immediate action would be taken to remove the students.
"The university has said that no action will be taken to remove them from the building today," she said.
Roger Gair, university secretary, said in a statement on the university's website that it would not accept an "indefinite occupation" of the lecture theatre.
Related Internet Links
The BBC is not responsible for the content of external sites.