Leeds offers 2,000 free parking spaces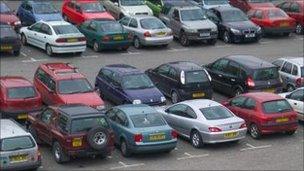 More than 2,000 parking spaces are to be offered to Christmas shoppers free of charge Leeds, the council has announced.
Parking at Woodhouse Lane, Quarry Hill, Meadow Lane, Maude Street and West Street will be free on Saturday 18 December.
The free parking will also be on offer on Saturday, 8 January.
All council-run car parks in nearby Otley will also be charge-free on 18 December.
Spaces will also be free throughout the city from Christmas Day until 28 December and from New Year's Day until 3 January with the exception of staffed parks at Woodhouse Lane and Queen's Hall.
Councillor Tom Murray, who is responsible for environmental services, said the council wanted to boost trade over the holiday period.
He said: "Times have been hard for local businesses recently and we want to make sure that everyone - shoppers and traders alike - has reason to be cheerful this Christmas.
"We're making more than 2,000 parking spaces free for certain dates before, during and after Christmas, which should encourage people to visit the city, support local shops and enjoy some of our restaurants and bars.
"By making these car-parks free on some of the busiest shopping days of the year, we're hoping the local economy will receive a very welcome boost."
Related Internet Links
The BBC is not responsible for the content of external sites.