Puppy dumped in Leeds prompts plea by dogs charity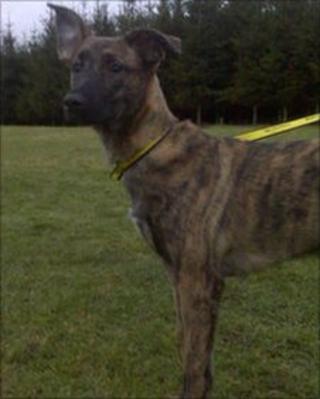 An animal charity is urging owners not to dump their pets after a puppy was abandoned at a Leeds park.
The 16-week-old female lurcher cross was found on New Year's Eve tied to the gates of Bramley Park with a note attached to a pound coin.
The puppy was taken to Dog Trust Leeds Rehoming Centre where staff are now trying to find her a new home.
Amanda Sands, centre manager, urged people never to dump their pets and to contact the charity for help instead.
Ms Sands said staff had named the puppy Eve.
"Eve was found tied to the park gate by a passing dog walker," she said.
"She was left with a note that said 'My owner cannot cope with me, please ring Dogs Trust' and a pound coin, which we think someone may have left to cover the cost of a phone call.
"It really is very sad to see a puppy dumped in this fashion.
"We suspect she may have been an unwanted Christmas present but we don't know for sure and she wasn't microchipped so we can't trace her owner.
"We'd like to urge people struggling to look after their pets never to dump them as animal welfare charities like Dogs Trust will always do their best to help."