Leeds City Council plans 3,000 job cuts to save £90m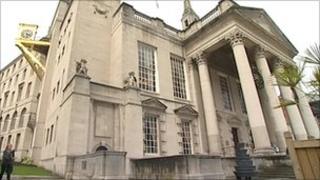 Some 3,000 jobs will be cut under plans unveiled by Leeds City Council to tackle a £90m funding black hole.
Adult social care facilities will be hit by the cuts with 13 buildings currently used for day care and support facing closure.
The chief executive's pay will be cut by 5%, with councillors' basic allowances and staff pay frozen.
Council leader Keith Wakefield said "painful decisions" had to be made.
Under the plans the council will reduce the number of senior managers by 25%, cut administration costs by 16% to save £13.6m, and reduce the cost of its buildings by £6m.
Arts grants reduced
It will reduce its spending on communications by £600,000 and reduce marketing budgets by almost 40%.
Councillors' special responsibility allowances will be cut by 3%, and the council's legal budget will be slashed by £1m.
Children's services will escape the cuts and receive a larger budget overall.
East Leeds and Garforth leisure centres will close and community groups will be offered the chance to take them over.
Bramley Baths will run reduced opening hours and Middleton Leisure Centre's pool will close - though other facilities at the centre will receive investment.
There will be a charge for attending the formerly free Opera in the Park event.
Grants to arts organisations will be cut by up to 15% and the council will stop its contribution to free city centre buses.
'No choice'
The authority is also reviewing the number of libraries it runs.
Cllr Wakefield is urging councillors to back the plans at next week's executive board meeting.
He said: "The government's massive spending reductions, the like of which have not been experienced since the 1980s, leave us with no choice other than to reduce services.
"Leeds, like many other northern cities, has received one of the worst settlements in the country and we're left to deal with the consequences.
"Unfortunately, this is just the beginning - in 2012/13 we know we will have to make savings of at least another £25m.
"We cannot sustain our current service levels - the money simply isn't there to do that. Some services will reduce, many others will be reorganised and delivered differently in future."