Leeds bus lane drivers set to face fines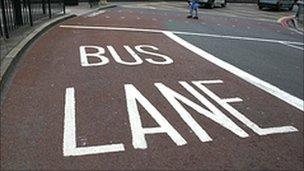 Motorists who use bus lanes illegally will be targeted in a new traffic crackdown in Leeds.
The council is installing enforcement cameras at key city centre locations this month after a survey revealed 500 drivers a day were breaking the law.
In the last week of January researchers were posted at seven busy sites between 0700 and 1900 to gather data.
Drivers face a penalty charge notice of £30 which will increase if not paid in a set period.
The council recorded an average of 30 to 40 breaches an hour, which it said was instrumental in clogging up traffic.
The scheme is to be expanded at a later stage with the introduction of mobile cameras to tackle the issue elsewhere.
Councillor Richard Lewis, executive member for development, said: "This is all about keeping the city centre moving and making sure buses can have the clear access through their dedicated lanes that they are entitled to.
"Selfish drivers who abuse the lanes hold up the buses, which in turn causes knock-on effects to traffic and other law-abiding motorists."
Metro, which co-ordinates the transport for West Yorkshire, is supporting the scheme.
Chris Greaves, Metro chair councillor, said: "Metro, local councils and bus operators invest in schemes to improve public transport, but all this good work is for nothing if car users block bus lanes and restricted areas and park in bus stop lay-bys, preventing passengers from using the special-level access stops we're introducing."
The council is ushering in the system with a trial period which will see warnings alerting motorists about fines in the future.
The activation of the cameras is scheduled for the beginning of April.
Related Internet Links
The BBC is not responsible for the content of external sites.