Flats named after fallen Morley soldier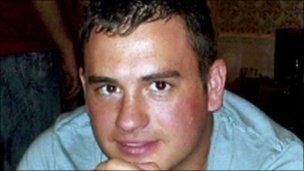 A new housing development has been named after a fallen soldier whose death and heroism have touched many residents in a West Yorkshire town.
Lance Corporal David Kirkness, 24, from Morley, died when he searched a suicide bomber at an Afghanistan checkpoint in December 2009.
Rifleman James Brown, 18, and two Afghan soldiers also died in the explosion near a packed market in Sangin, Helmand.
Lt Col Nick Kitson, commanding officer of 3 Rifles, said comrades were proud a "much larger tragedy" had been avoided.
L/Cpl Kirkness has been remembered with a series of events and tributes in his home town of Morley where a social housing development and road have now been named after him.
Earlier, his mother Maggie and teenage brother Chris joined General David Shaw, the head of the Army in Scotland, Northern Ireland and North of England, for the official opening of the development.
Kirkness Court, in Corporation Street, will provide 22 flats near the town centre for people aged 55 and over.
The homes, developed and managed by housing association Accent Foundation, were built on a derelict site as part of the regeneration of Morley.
Terry Grayshon, an Independent councillor for the Morley South Ward, put forward the idea of naming the homes after the young soldier.
Mr Grayshon said L/Cpl Kirkness was fortunately the only soldier from the town who had been killed in Afghanistan.
"We wanted to have something tangible to remember David and his sacrifice," he said.
"David's mother and brother live just around the corner from the development and so it seemed like a fitting tribute.
"Although you may think you can console someone who is bereaved, you never can. But this shows that as a community we are thinking of them and offering support."
He said it also showed support to the Army and the "debt of gratitude" the nation owed it.
Mr Grayshon added it may also show future generations who researched the name of the development "the futility of war".
He said as an affordable housing scheme, Kirkness Court would enable residents to remain in the area.
The councillor said: "Morley is a classic northern town where everyone knows everyone and looks out for each other.
"And if there's something we can do, we will do it."
He said the soldier was "a popular chap" who supported Leeds United and played for Morley Rugby Club.
When the death of L/Cpl Kirkness was announced, the flag at the town council offices was flown at half mast and a book of condolence was opened.
A suite at Morley Leisure Centre was named after L/Cpl Kirkness last year.
And in December, some of the soldier's ashes were sent up in a rocket as part of a display to mark the first anniversary of his death.
His mother Maggie said the display was an opportunity to raise funds for charities which supported soldiers.
She said it was also a celebration of the life of her "funny and likable" son.
Ms Kirkness said her son had a real sense of humour.
"David initially wrote a letter home saying if anything happened he wanted someone to skydive with his ashes.
"But then he sent another saying he wanted to be in a firework over Morley Town Hall."
L/Cpl Kirkness has also been remembered with a plaque at his former school.
There have been 354 British military deaths in operations in Afghanistan since 2001.
And fallen servicemen and women are being remembered in a wide range of ways by their families, friends and communities.
A number of roads have been named after soldiers.
Earlier this month, the parents of Private Tony Dawson opened a road in Dagenham which had been named in his honour.
The 27-year-old soldier was killed in Helmand when his patrol car came under fire in August 2007.
Tony Rawson Way contains seven new council houses, which will be occupied by families from the council's housing waiting list, Barking and Dagenham Council said.
Last year, members of the Torpoint Rowing Club in Cornwall named their new boat in memory of Rifleman Sam Bassett.
The soldier was killed in an explosion in Afghanistan in November 2009.
The club said the Spirit of Sam Bassett would be a fitting tribute to the 20-year-old who was a regular rower at the club when he was on leave.
Related Internet Links
The BBC is not responsible for the content of external sites.