Leeds lab opens to study brain tumours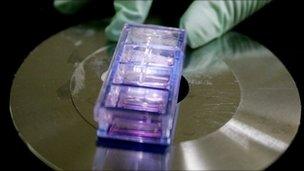 A new research laboratory where doctors will work to find treatments for brain tumours is to officially open in Leeds.
Scientists at the centre, at the Leeds Institute of Molecular Medicine, will collect tissue from consenting patients who have had surgery.
The laboratory has been funded for an initial five-year research period by money provided by two charities.
In 2007, the charities - Candlelighters and Andrea's Gift - pledged £750,000 to set up the programme.
The team will be lead by Dr Sean Lawler, who is originally from Leeds but is returning from Ohio in the United States where he has been studying the treatment of brain tumours.
In a statement, the institute said Dr Lawler's brief was ambitious.
It said: "Dr Lawler and his team will be working closely with other researchers and advanced equipment at Leeds Institute for Molecular Medicine.
"They will also work with local clinicians including neuro-oncologists, pathologists, neurosurgeons and clinical trials specialists.
"The ultimate aim will be to develop the group into one that is nationally and internationally recognised as a leading centre for brain tumour research."
Dr Lawler said: "It is vital we make progress against these cancers, which are less well-studied than some others, but affect both adults and their families."
Related Internet Links
The BBC is not responsible for the content of external sites.